Inside Ukraine's Revolutionary Warfare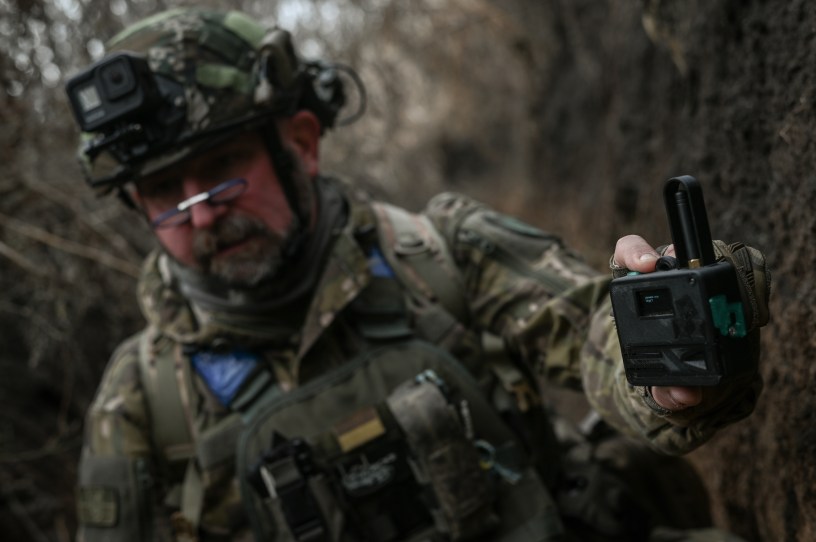 A Ukrainian sergeant who goes by his callsign, Producer, with his Sugarcube in a trench outside Bakhmut during an enemy artillery barrage. (Photo by Justin Yau)
DONETSK OBLAST, Ukraine—In an empty field just south of the Russian-occupied city of Bakhmut, a half-dozen Ukrainian soldiers waited patiently amid an enemy artillery barrage. They rested in an abandoned Russian trench that had seen little use since its original occupants had been pushed out over the summer. After months of neglect, the entrenchment was overgrown with shrubbery that by happenstance also served as concealment from enemy drones.
The shells, evidently aimed at artillery in the tree line on the field's western edge, exploded behind the soldiers in bursts staggered a few minutes apart.
Zhenya, a 32-year-old lieutenant from Mariupol serving in the 28th Mechanized Brigade, was unfazed. (As is standard practice for Ukrainian Armed Forces soldiers speaking with the media, he did not provide his last name to The Dispatch.)
"They have two drones flying above us searching, maybe for us, maybe for somebody else, but we're too beautiful to die today," the young lieutenant said cheerfully as the shells whizzed above him. Another soldier stood at one of the trench's entrances, casually watching the shells land as he absentmindedly played a game on his smartphone.
You're out of free articles
Create an account to unlock 1 more articles