Israel Sidesteps a Crisis—For Now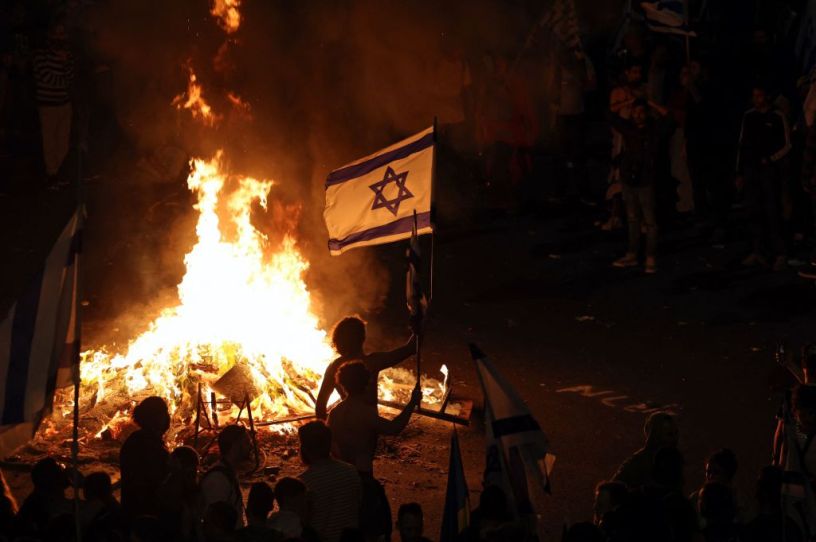 Protesters block a road during a rally against the Israeli government's judicial reform in Tel Aviv, Israel, on March 27, 2023. (Photo by AHMAD GHARABLI / AFP) (Photo by AHMAD GHARABLI/AFP via Getty Images)
Israeli Prime Minister Benjamin Netanyahu responded to nationwide protests and strikes that affected hospitals, universities, and air travel Monday by postponing the slate of controversial judicial reforms that triggered the chaos. But the recent unrest may be just the beginning of the country's brewing crisis.
The fight over judicial overhaul was "tearing the country apart," Netanyahu said in a televised address Monday as he announced the postponement. Yet he still vowed to pass it "in one form or another."
"When there's an option to avoid civil war through dialogue, I as prime minister take a time-out for dialogue," he added.
Besides buying time, it's unclear what Netanyahu plans to do to both assuage the protesters and the far-right factions driving the reform efforts. Regardless of whether Netanyahu's able to strike a compromise and get the reform through in May as he announced Monday, the judicial saga has struck a major blow to his political career—and the precarious governing coalition he formed last year. The prime minister has staked his reputation on national security and the economy, both of which were undermined in recent days.