Joe Biden and Mary Jane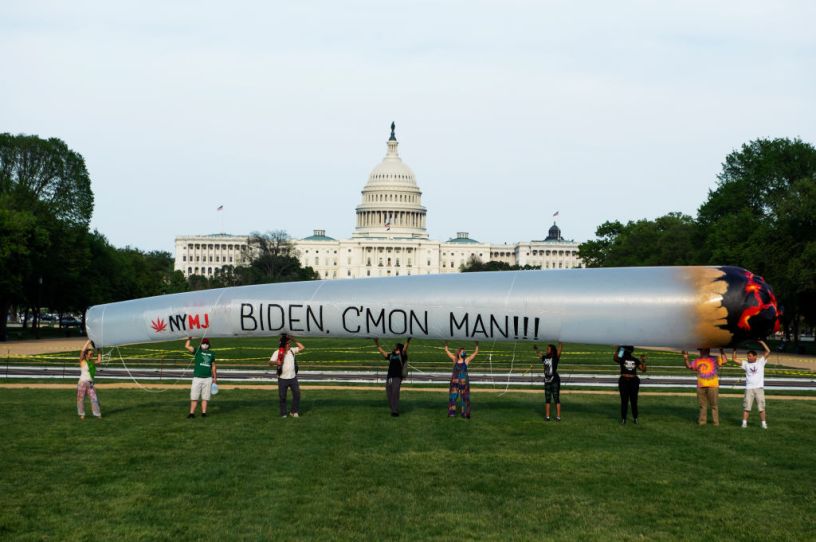 Members of the DC Marijuana Justice community hold a 51 blow-up joint on the National Mall in 2021. (Photo By Tom Williams/CQ-Roll Call, Inc via Getty Images)
President Joe Biden announced a three-pronged approach to further decriminalize marijuana possession last week: pardoning prior federal convictions of simple possession, encouraging governors to do the same at the state level, and directing the attorney general and the secretary of Health and Human Services to reconsider how marijuana is scheduled as a controlled substance.
Loosening marijuana laws is broadly popular: According to a 2021 Pew survey, less than 10 percent of Americans want pot to be illegal in all circumstances. But what will Biden's plan actually accomplish? And where does it fit into the broader policy debate over marijuana reform in the United States?
Federal pardons only go so far.
No one's getting a get-out-of-jail-free card as a result of Biden's decision. According to the New York Times, U.S. officials say zero people were serving time in federal prison for simple possession of marijuana last week. But the pardons will affect roughly 6,500 people nationwide and a few thousand more in the District of Columbia by helping to ensure they are not "denied employment, housing, or educational opportunities" as a result of their past convictions, according to the White House announcement.