Of Hamas and Historical Ignorance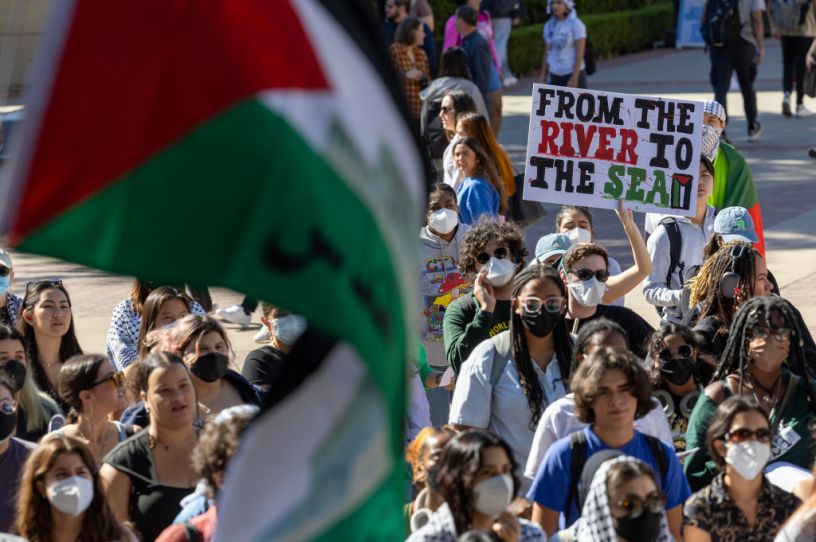 UCLA students march and on the UCLA campus on November 8, 2023, in Los Angeles. (Brian van der Brug/Los Angeles Times/Getty Images)
In the wake of Hamas' brutal assault on Israel, campuses across the United States have been home to rallies and demonstrations that are nominally pro-Palestinian but effectively celebrations of the terrorist group. Students at George Washington projected slogans such as "Glory to the Martyrs" on a campus building, a Cornell student was arrested for threatening to rape and kill Jewish students, and numerous campuses have been home to antisemitic assaults and vandalism.
The reaction has highlighted the degree to which we've left a generation of youth vulnerable to ludicrous doctrines, social media manipulation, and genuinely bad actors. The shocking support among young adults for Hamas' assault draws on historic ignorance and crude postmodern notions of justice and victimhood, in which torture and kidnapping were rebranded a justifiable response to "colonial privilege."
The problem starts well before students arrive at college. The average high school student knows little about American history, and even less about the world. A 2018 survey found that 41 percent of adult Americans couldn't identify Auschwitz as a Nazi concentration camp. Among millennials specifically, two-thirds couldn't identify Auschwitz and 22 percent had never heard of the Holocaust. So much for "Never forget."
Such findings are of a piece with the abysmal performance of younger students in history and geography on the National Assessment of Educational Progress. In the most recent assessment, of a nationally representative sample of eighth-graders, just 13 percent of students were judged "proficient" in U.S. history and just 22 percent in civics. These results continue a decade-long decline.
You're out of free articles
Create an account to unlock 1 more articles