On the Kemp Chase With Stacey Abrams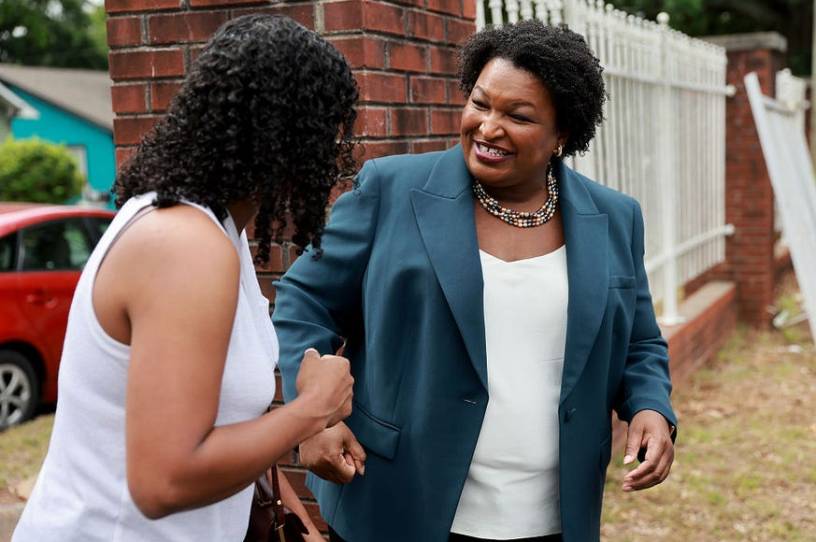 Eatonton, Georgia, doesn't see too many politicians coming through. So when Democratic gubernatorial candidate Stacey Abrams stops in the town of 6,000 an hour east of Atlanta Wednesday evening, a good-sized and cheerful crowd turns out despite the lingering heat, lounging in lawn chairs and cooling themselves with "I'm a Fan of Stacey Abrams" fans provided by the campaign.
"We are 62 days away from glory—62 days away from changing the future of this state," Abrams tells the people assembled at the city center stage. "We got the money already. We've got the people. We've got the power, but we need the leadership. We don't have to raise taxes. We just have to raise our expectations."
Abrams has been changing the future of Georgia for a while already. In fact, though she's never held statewide or national office, there's little doubt that the former minority leader of the Georgia House has been one of the most pivotal American politicians of the last few years. Her voter-registration efforts are widely credited as the driving force behind the Peach State's recent red-to-purple turn—a phenomenon that set the stage for Georgia Democrats to score two huge runoff-election Senate upsets against GOP incumbents in 2021. Those seats handed Chuck Schumer control of the Senate and crushed Republicans' best hope to stymie President Joe Biden's agenda in Congress.
But while she's improved the fortunes of Democrats all around her, there's been an "always the bridesmaid" feel to Abrams' personal political career, which has recently been marked mostly by disappointments: edged out by Republican Brian Kemp in the 2018 governor's race, shortlisted as a possible running mate but ultimately passed over by Biden in 2020. And today, despite rising Democratic hopes for the midterms around the country—and despite the odds looking good that one of those new Georgia senators, Raphael Warnock, may stave off Republican challenger Herschel Walker—Abrams has stayed flat in the polls, facing the same rough five-point deficit she's seen against Kemp since January.