Our Imperial City of Marble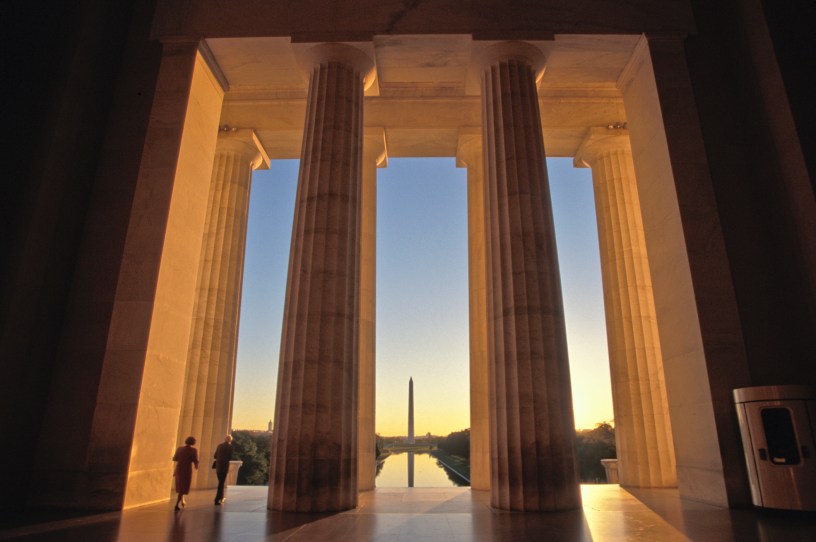 View of the Washington Monument from inside the Lincoln Memorial in Washington, D.C. (Picture via Getty Images)
Augustus boasted that he had found Rome a city of brick and left it a city of marble: "Marmoream relinquo, quam latericiam accepi." That doesn't really seem to be true, historically, though the opening of the marble quarries at Carrara did provide the new emperor with raw materials for some new construction and a few upgrades. Rome's transformation wasn't architectural but political: from Octavian to Augustus, from republic to empire, from conservative restraint to imperial grandiosity.
The way things went, the Romans would have been better off with their sturdy city of brick.
Two days in Washington, D.C., our own imperial city of marble, is enough to remind me how much I dislike this place.
Washington has its share of urban problems, though from the street level it feels a lot more squared-away than the typical major U.S. city. It remains in the top 25 when it comes to rates of violent crime, but its murders per capita run about one-quarter of what they suffer in St. Louis, less than half what they endure in Baton Rouge, and just over half of what they have to put up with in Kansas City. It has a high rate of homelessness and a very visible vagrancy problem, though not quite what one sees in Los Angeles or New York City. Its public spaces feel relatively—relatively!—orderly and tidy compared to most other big cities in the United States. Going by undergraduate and advanced degrees, Washington is one of the most highly educated cities in the country; household incomes are half-again as much here as in Jacksonville or Phoenix.
You're out of free articles
Create an account to unlock 1 more articles