Reflections on Hispanic Heritage (Month)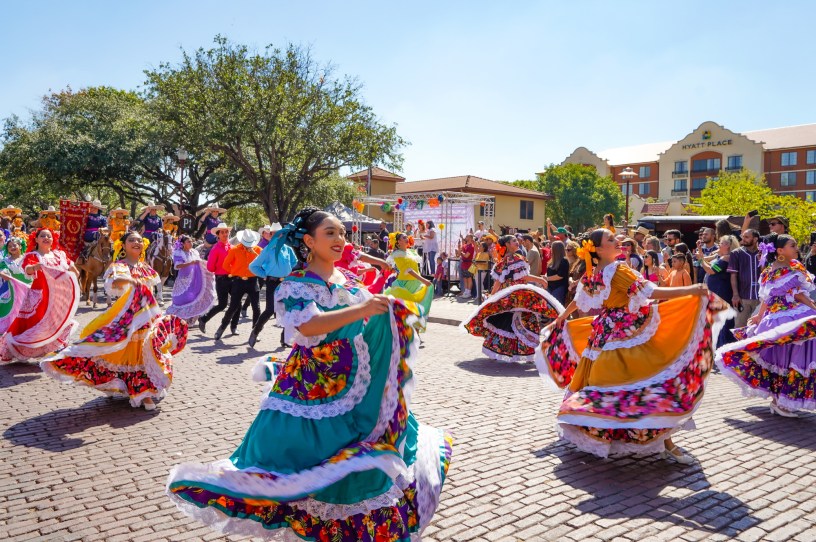 Mexican folkloric dance troupes from Texas at the National Hispanic Heritage Month Parade in Fort Worth, Texas, on September 17, 2023. (Picture via Getty Images)
The Starbucks down the street from where I work changed its playlist from coffeehouse blues to lively salsa. The Target where I pick up my toothpaste has calaveritas, or sugar skulls, propped near the front door. Promotional emails land in my inbox with the headline: "Celebrate Hispanic Heritage Month by taking 15% off your next order."
Every September the "Heritage" part of Hispanic Heritage Month briefly takes over marketing campaigns and corporate lingo. The "celebrations" start at midnight on September 15 to commemorate the independence of five Central American countries, including El Salvador and Honduras. President Lyndon Johnson signed National Hispanic Heritage Week into law in 1968, which was then expanded to a month 20 years later by President Ronald Reagan.
But I didn't know these facts prior to this piece—I had to search for them. Which raises a question: If neither a coffeehouse playlist, promotional campaigns, nor fast facts resonate with my Hispanicness, then what does?
Hispanics, it bears reminding, are extremely diverse. According to recent Census data, there are 63.7 million Hispanics living in the U.S. While those of Mexican origin make up the majority of the Hispanic population (approximately 60 percent), there are other distinct enclaves: Puerto Ricans in New York, Cubans in Miami, and Salvadorians in Washington, D.C. Venezuelan, Dominican, and Guatemalan immigrants are the fastest growing Hispanic groups in the U.S.
You're out of free articles
Create an account to unlock 1 more articles