Remembering Secretariat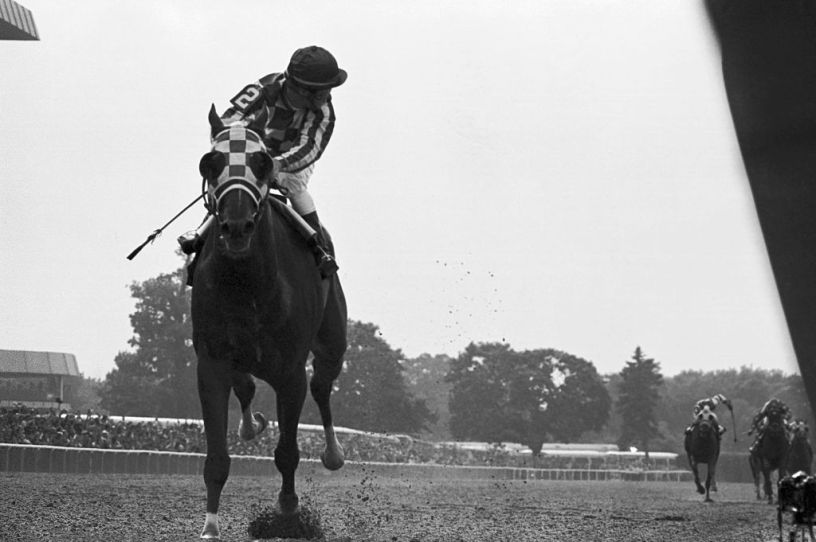 Jockey Ron Turcotte turns in the saddle to look for the competition as he guides Secretariat across the line to win the Triple Crown of racing at Belmont Park, June 9, 1973. (Photo from the Bettman Collection/Getty Images.)
Fifty years ago next weekend, I saw the greatest athletic feat of my lifetime: Secretariat's record-setting—rather, record-shattering—31-length victory at the Belmont Stakes. With the win, "Big Red," or just "Red," as the thoroughbred was known to his owner, trainer, and jockey, swept to the Triple Crown, winning each leg (the Kentucky Derby, the Preakness, and finally, the Belmont Stakes) with times that remain track records. If records are made to be broken, reflecting the fleeting nature of time and excellence, then Secretariat comes as close to immortality as any earthly being I have known.
Secretariat was as stunning a horse as he was fast. Having a coat of bright chestnut with three white stockings, he stood over 16 hands and, as one of his team described him, "was the biggest, strongest, most attractive and powerful animal you could ever lay your eyes on. He was a heartthrob." And inside that powerful body was, a post-mortem necropsy revealed, an engine—a heart that weighed nearly three times that of the typical thoroughbred.
Every year about this time, I watch the movie Secretariat. It's a passable flick, not as good as Seabiscuit as equine-themed movies go. I say "passable" because much of the movie's focus is on Secretariat's owner, Penny Chenery, and her personal and financial struggles to keep her father's horse breeding and racing operation solvent.
But the races themselves should have been the storyline—a fact brought home by the movie's end with the actual footage of Secretariat's overwhelming victory at the Belmont. Grown men (including yours truly) have been known to weep at the sight of that ungodly handsome and powerful animal's margin of victory that long-time track professionals didn't think was possible—and even now wonder how it was. It was enough to make you forget for a moment that this was the summer of the Watergate hearings.
You're out of free articles
Create an account to unlock 1 more articles