Republican Women's Complex Views on Abortion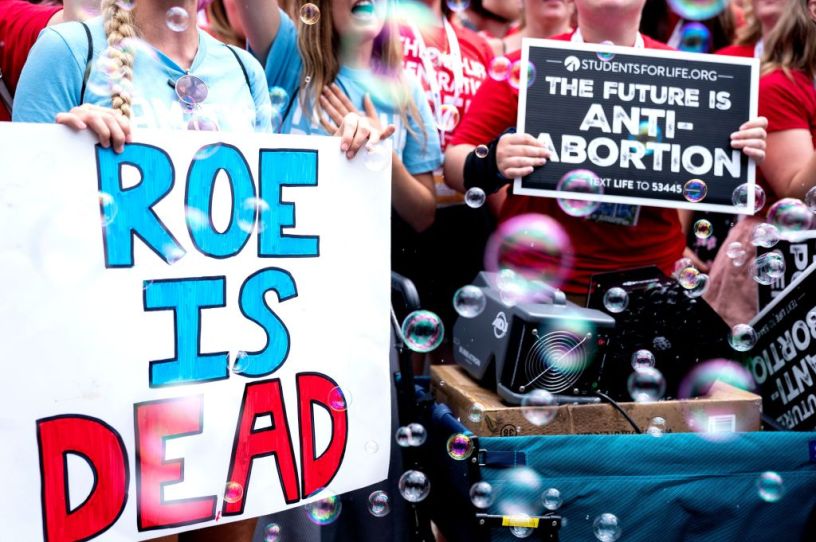 Anit-abortion activists hold signs outside the Supreme Court after the court overturned Roe v. Wade on June 24, 2022. (Photo by Stefani Reynolds / AFP/Getty Images)
Many American women remember where they were one year ago when they heard the news that Roe v. Wade had been overturned by the Supreme Court. In a world of news overload, in which every day is packed with stories branded "breaking news," this one was different, and it hit at an emotional level.
The Supreme Court's decision in Dobbs v. Jackson Women's Health Organization most often sparked feelings of anger, disappointment, and worry among female voters. In survey research I conducted on behalf of All In Together, a nonpartisan group devoted to promoting women's political engagement, we asked women if they recalled how they felt when they first heard that Roe had been overturned, and we found those feelings of anger to be particularly pronounced with women under age 30 and Democratic women, particularly those with a college degree.
But women are not a monolithic group who think and vote in lock-step. And though Democratic women and their politically independent counterparts shared a similar response to the Dobbs decision, the story for Republican women is much more complicated. They recalled anger and disappointment, yes, but also—in roughly equal measure—feelings of hopefulness and satisfaction.
Republican women generally feel unheard on the issue of abortion, with a majority saying political leaders in their state "don't really listen to people like me" when deciding abortion policies. At the same time, it is unclear which direction Republican women as a whole would take abortion policy; 1 in 6 say that they think their own state is "too restrictive," while a third (33 percent) say policies in their state are about right and 3 in 10 say they are "not restrictive enough."