Republicans Lose Out When Local News Collapses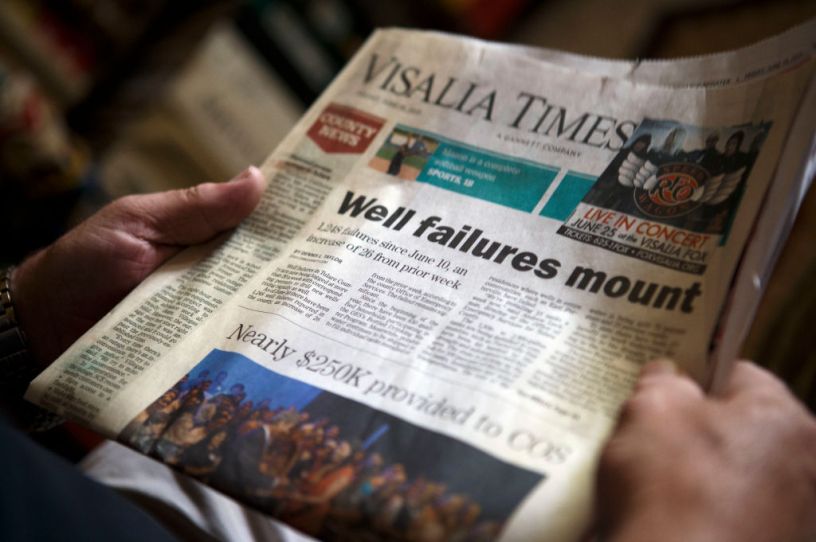 (Photo by Patrick T. Fallon/ Washington Post/Getty Images)
The collapse of local news sometimes looks like a big city problem. Alarm bells rang when iconic dailies like the Denver Post and the Baltimore Sun slashed their staffs. The election of George Santos—whose many falsehoods and fabrications came to light only after he won a seat in Congress—cast a spotlight on the anemic local news in New York City.
Since Republicans are more likely to express skepticism than concern about the media, we might conclude that the fate of local news is an issue only for Democrats. In fact, more victims of this trend are probably Republican or conservative Americans, and they should care about strengthening local news.
Using 2020 election results and a dataset collected by professor Penny Abernathy of the Medill School of Journalism at Northwestern, I took a closer look at how local news is faring across the country. The outlook isn't encouraging for smaller communities, which tend to be more conservative: Of the 205 counties nationwide with no newspapers in the dataset, 93 percent had fewer than 50,000 residents, and 74 percent of those counties without papers voted for Donald Trump in 2020. "More than half of the communities that have lost newspapers are in suburban or rural areas, where the population is shrinking, rather than growing," Abernathy wrote in a 2022 report on the state of local news.
Between 2004 and 2022, approximately 2,500 weekly publications closed or merged with other papers. In the papers that remain, local coverage has declined more rapidly in smaller towns. "The smallest papers experience the biggest proportional cuts to coverage of local government," wrote professors Danny Hayes and Jennifer Lawless in their book News Hole: The Demise of Local Journalism and Political Engagement, which studied 121 newspapers. "Local coverage was reduced 300 percent more than other topics at the smallest papers but only 30 percent more than at the largest papers."
Get every newsletter and all of The Dispatch. Support quality, fact-based journalism.
Get Started
ALREADY HAVE AN ACCOUNT? SIGN IN