Russia Created a Refugee Crisis, and Now Putin Is Weaponizing It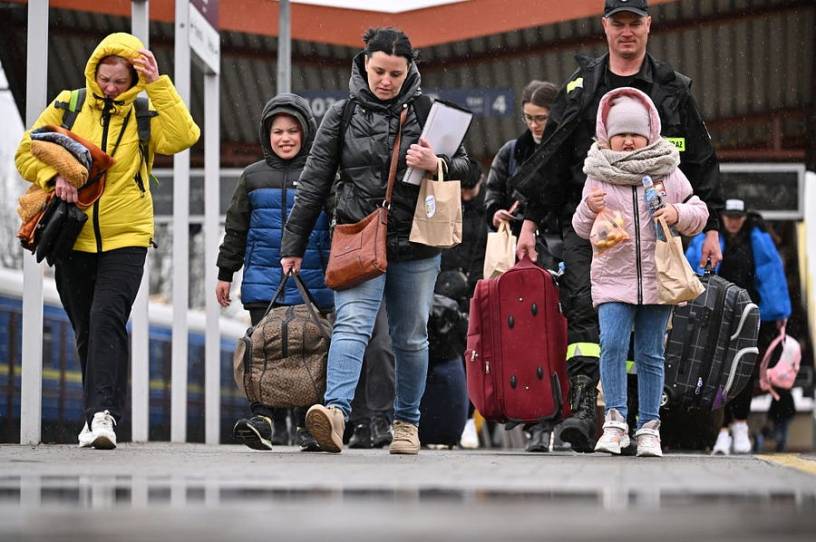 Vladimir Putin's hybrid war in Ukraine has created a multifaceted humanitarian crisis that the Kremlin plans to weaponize against the West to further provoke instability and chaos. Refugees have poured out of Ukraine since his February 24 invasion, and Russia's attacks on Ukraine's agricultural sector—from grain-export blockades to theft to strikes on agricultural facilities—are creating disruptions to the global food supply that are likely to create even more refugees worldwide. Foreign Minister Sergei Lavrov is touring Africa this week, blaming the West for the food crisis. Western leaders must realize the full destabilizing potential of Russia's weaponization of the refugee crisis. In response, the United States should combine conventional military support with multilateral information operations to counter Russia's plans.
We know Putin's playbook well. After Putin's 2014 invasion of Ukraine, 1 million Ukrainians took refuge in Poland. Putin's 2015 intervention in Syria pushed 1.4 million refugees into the European Union. While the effects of refugee crises are not as apparent as other wartime security threats, these refugee surges exacerbated and caused other social crises, which then contributed to the rise of the far right across Europe.
As Western leaders have delayed a response to the refugee crisis, the Kremlin has built on its successes. While refugee rates from Putin's conflicts in 2014 and 2015 were 1 million per year, Putin's current war in Ukraine has already displaced 13 million Ukrainians. The Kremlin has engaged in tactics like missile terrorism, where troops launch missiles at Ukrainian towns to sow terror and push more refugees west. While the West continues to debate whether Putin would consider fighter jets for Ukrainian defense an escalation, Ukraine is running out of fighter jets and its missile defense system is insufficient to protect civilians.
Ratcheting up its missile terrorism is only one way that the Kremlin could intensify the refugee flow to the West. The Kremlin could also open a second front in Ukraine's western regions by invading Lviv from Belarus, which would push up to 10 million Ukrainians toward the European Union. This crisis would be especially acute because millions from Ukraine's east have sought safe haven in the country's west, and Poland and Slovakia next door have already taken in all the refugees they can handle. 
Keep reading with a free account
Create a free Dispatch account to keep reading
Get Started
ALREADY HAVE AN ACCOUNT? SIGN IN