Scotland's Gender Policy Has Created a Political and Constitutional Crisis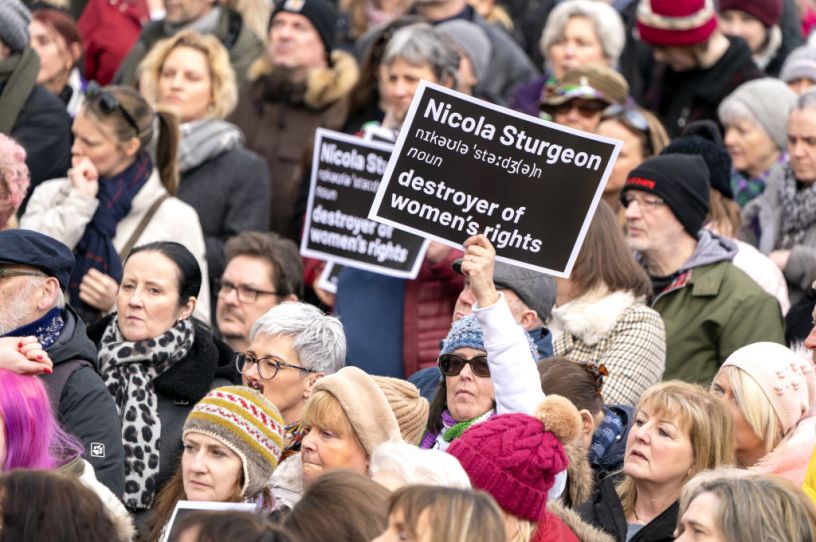 Demonstrators take part in the Let Women Speak rally in George Square, Glasgow, in support of the U.K. Government's use of a Section 35 order to block Scotland's recent Gender Recognition Reform Bill. (Photo by Jane Barlow/PA Images via Getty Images.)
Editor's Update: Nicola Sturgeon announced Wednesday that she would be resigning as first minister of Scotland. The surprise move comes amid controversy over Scotland's gender policy, though she denies the decision is tied to "a reaction to short-term pressures." Below, contributor Oliver Rhodes explains the controversy that consumed her final weeks in office.
---
When a convicted rapist was sent to Scotland's only women-exclusive prison last month, First Minister Nicola Sturgeon faced public outcry.
Isla Bryson was arrested and brought to trial last year as Adam Graham, a biological male, following the rape of two women Bryson had met online. Scotland adopted a policy in 2014 allowing prisoners to be housed according to their preferred gender, and during the trial Bryson identified as a woman. Upon being convicted, Bryson was briefly—and temporarily—transferred to the women's prison while awaiting sentencing.
The story has set the Scottish government's gender policy into tailspin, the fiasco coming just days after the U.K. government blocked the passage of a controversial new bill that would have allowed individuals to change their gender without a medical diagnosis of gender dysphoria. Now, long simmering social tensions over the meaning of sex have ignited a new political and constitutional crisis on both sides of the border.