Secretary of the American Century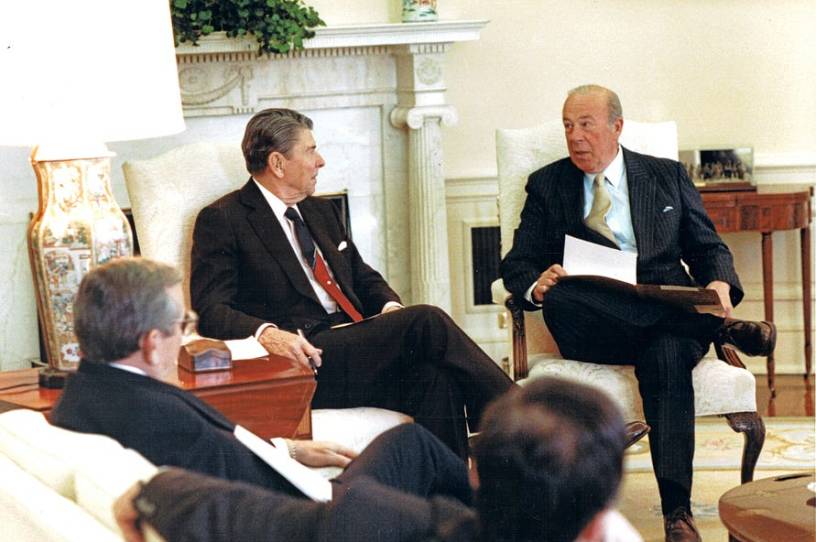 America has lost one of its greatest statesmen with the passing of former Secretary of State George P. Shultz two months after he celebrated his 100th birthday. In a famous quip, Anne-Marie Bigot de Cornuel (a supposed mistress of Louis XIV, the "Sun King") said "no man is a hero to his valet." As a former special assistant to Secretary Shultz I can say categorically that he was the exception to the rule. In December, a large group of his former staffers enthusiastically gathered via Zoom to celebrate his becoming a centenarian. He was a demanding but measured and fair boss who, even under the intense pressures of the height of the Cold War, always maintained his composure and never raised his voice.
Shultz was one of the longest-serving secretaries of the Cold War era and, arguably, the most successful.* Working with President Ronald Reagan, he executed a diplomatic effort to implement the strategy of "peace through strength" during a period when the superpower confrontation was intensifying and possibly reached its apex with the shoot-down of a Korean Airliner and the so-called Able Archer episode. The administration weathered partisan criticism that this approach was not yielding immediate results. But with Shultz's patient diplomacy backed by a robust military build-up and the arming of proxy forces as part of the Reagan Doctrine, it ultimately forced the USSR to withdraw from Afghanistan, reached a Namibia settlement and an important arms control agreement on intermediate range nuclear forces (INF) that eliminated an entire category of nuclear weapons from the inventory of the two sides, and laid the groundwork for Nicaragua's return to democracy and the retreat of Soviet power from Central Europe. 
For Shultz, the strength of U.S. diplomacy lay in its unique, globe-girdling system of alliances, including its multilateral alliance with Europe and its bilateral treaty allies in East Asia. When he entered office in 1982, the transatlantic relationship had been roiled by disputes over the extraterritorial reach of U.S. sanctions over Soviet pipeline projects to provide natural gas to Europe. Shultz orchestrated a compromise that relieved the tensions but seriously tightened the enforcement of the prohibitions on dual-use technologies in East-West trade. 
In Asia, Shultz made a point of telling foreign service officers that their fixation on U.S.-China policy was misplaced, and that the most important policy element in the Asia-Pacific region was the U.S.-Japanese security relationship and the alliance with the Republic of Korea. He went to work strengthening and reinforcing those ties before engaging with Deng Xiaoping and Chinese leadership. 
You're out of free articles
Create an account to unlock 1 more articles