Surprise and Frustration at the NATO Summit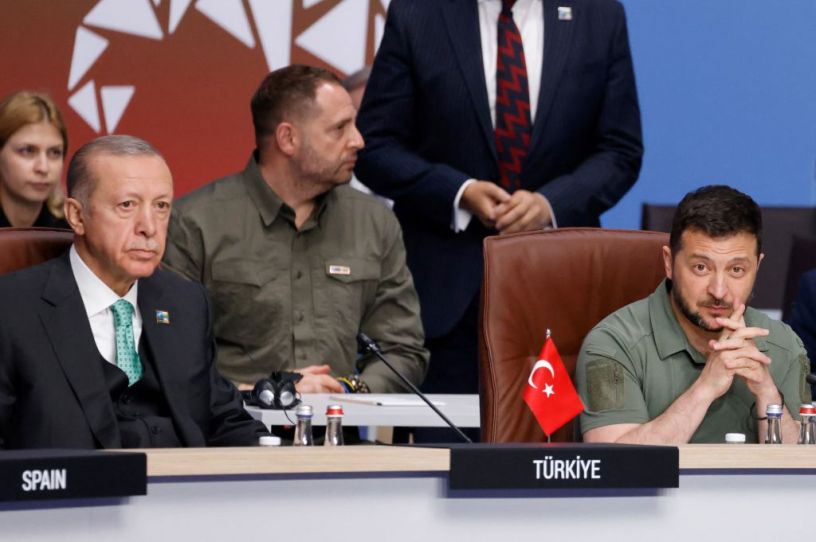 Ukrainian President Volodymyr Zelensky and Turkish President Recep Tayyip Erdogan wait before a working session on Ukraine at the NATO summit, in Vilnius on July 12, 2023. (Photo by Ludovic Marin/AFP/Getty Images)
NATO leaders convened in Vilnius, Lithuania, this week to discuss the military alliance's future amid an ongoing ground war in Europe. The two-day deliberations ultimately put one prospective ally, Sweden, on track to become NATO's 32nd member but left another, Ukraine, sorely disappointed.
Turkish President Recep Tayyip Erdoğan abruptly dropped his longstanding opposition to Sweden's NATO accession on Monday, promising to work with his country's lawmakers to approve the Nordic country's membership. The proposal is expected to come before Turkey's parliament when lawmakers reconvene after a two-month recess on October 1.
The breakthrough—which followed a meeting between Erdoğan, Swedish Prime Minister Ulf Kristersson, and NATO Secretary-General Jens Stoltenberg—came on the eve of the summit, giving alliance members an early victory and projecting transatlantic unity in the face of Russian aggression. "This is a historic day," said Stoltenberg. Sweden's addition to NATO sends "a very strong message to [Russian President Vladimir] Putin that he's not going to outlast us, he's not going to outlast Ukraine, and the sooner he ends this war of aggression the better," Secretary of State Antony Blinken declared from Vilnius.
It was a welcome development—and a surprising one.