SVB, DEI, and ESG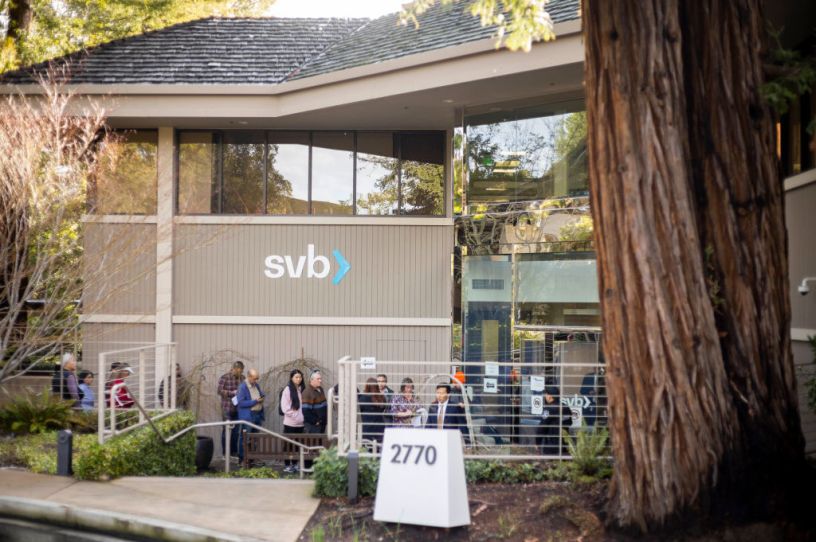 Silicon Valley Bank in Menlo Park, Calif. (Photo by John Brecher for The Washington Post via Getty Images)
Silicon Valley Bank collapsed last week—a not exactly surprising event as interest rates rise after years of easy credit. But out of the thousands of banks in America, why did SVB go under? Florida Gov. Ron DeSantis shared his own theory during an interview with Fox News' Maria Bartiromo: "This bank, they're so concerned with DEI and politics and all kinds of stuff. I think that really diverted from them focusing on their core mission."
Did wokeness kill America's 16th largest bank?
First, it's important to understand what's being discussed. DEI—diversity, equity, and inclusion—programs have become widespread in the world of business and education. Such programs incorporate initiatives like unconscious-bias training while emphasizing diverse hiring practices and more inclusive language. ESG—which stands for "environmental, social, and governance," referring to objectives of stakeholder capitalism—also has been a big part of Republican rhetoric going into the 2024 election. In Republican circles both terms, along with woke and wokeness, have become shorthand for political progressive overreach.
DeSantis isn't alone in suggesting DEI, ESG, or just general wokeness played a role in SVB's downfall. GOP Rep. James Comer, chairman of the House Oversight Committee, called SVB "one of the most woke banks in their quest for the ESG-type policy and investing." Donald Trump Jr. tweeted, "SVB is what happens when you push a leftist/woke ideology and have that take precedent [sic] over common sense business practices." Right wing activist Charlie Kirk, Sen. Mike Lee, and Rep. Andy Biggs also jumped on the SVB woke train.