The Immigration Battles Begin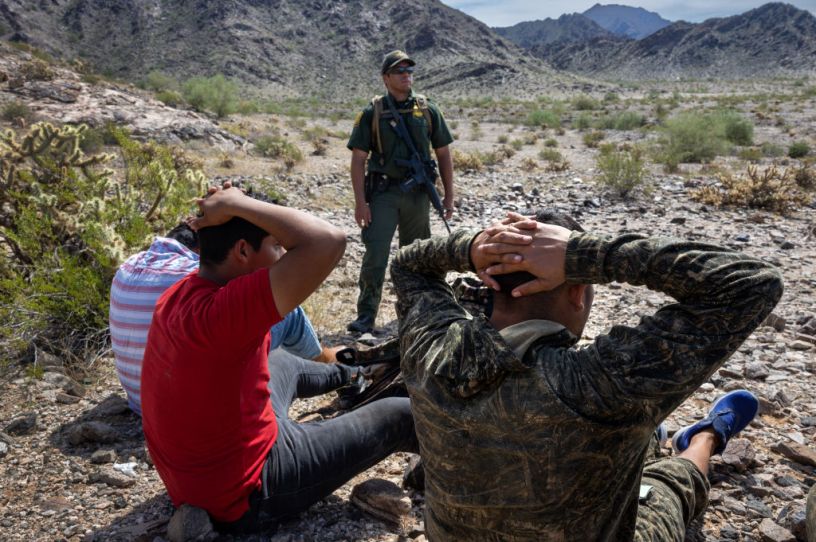 A U.S. Border Patrol agent watches over a group of immigrants after tracking them through rugged terrain in Arizona last September. (Photo by John Moore/Getty Images)
Partisan sparring over immigration began long before Tuesday morning's House oversight panel hearing, and it continued with Republicans and Democrats wrangling over how to address drug smuggling and the porous U.S.-Mexico border.
Republicans were unequivocal about where the real blame should lie: President Joe Biden "signaled our borders were open," House Oversight and Accountability Committee Chairman James Comer said, attributing "dangerous, chaotic, and inhumane" border conditions to the president's policies. Meanwhile, the White House in a memo said House Republicans "are more interested in staging political stunts" and "pushing an agenda that would make things worse at the border."
Tuesday's hearing and one at the House Judiciary Committee last week illustrated Republicans' plans to use dysfunction at America's southern border as evidence of the Biden administration's shortcomings. A number of Republicans—including Comer—have called for impeaching Homeland Security Secretary Alejandro Mayorkas over his handling of border enforcement, but the secretary's name rarely surfaced during Tuesday's hearing. (If the GOP were to move on impeachment, the House Judiciary would have jurisdiction over the inquiry.) Republicans instead focused on Biden himself hours before the State of the Union address.
Eyewitnesses from the border.