The Military's Recruiting Crisis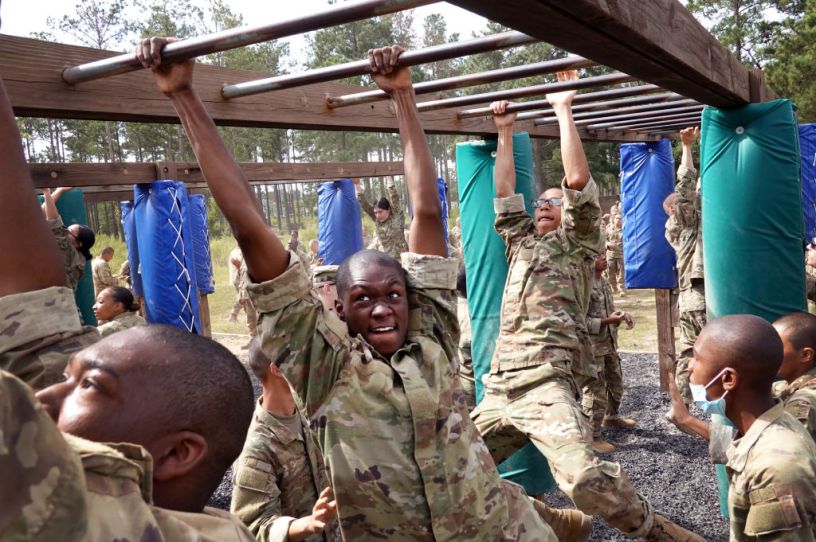 U.S. Army recruits during basic training at Fort Jackson on September 28, 2022, in Columbia, South Carolina. (Photo by Scott Olson/Getty Images)
Several branches of the U.S. military are projected to fall well short of their recruitment goals for the fiscal year, despite numerous initiatives undertaken by all the branches designed to attract as many quality recruits as possible—a problem military brass says doesn't have an easy fix.
The Army has been the hardest hit by recruiting struggles: It missed its goal by 25 percent (about 15,000 soldiers) in fiscal year 2022 and is projected to be about 10,000 soldiers short of its 65,000 goal this fiscal year. The Air Force, meanwhile, met its active-duty target in 2022 but expects to be 10,000 airmen short of its goal this year of almost 27,000, while the Navy expects to miss its target of almost 38,000 active-duty sailors by 6,000.
Many of the causes for the shortfalls are outside the military's control, John Noonan, a former national security adviser to Sen. Tom Cotton, tells The Dispatch. Only 23 percent of Americans between the ages of 17 and 24 meet the physical and mental requirements for military service, with Army aptitude test scores falling by 10 percent during the COVID pandemic, according to the Army Times. Up to 70 percent of potential Army recruits are now disqualified in the first 48 hours due to obesity, low test scores, or drug use.
Similar problems plague other branches, and defense officials have responded by relaxing some standards: In January, the Navy raised its maximum age for new recruits from 39 to 41 and has experimented with lowering entrance exam requirements.