The New Political Battleground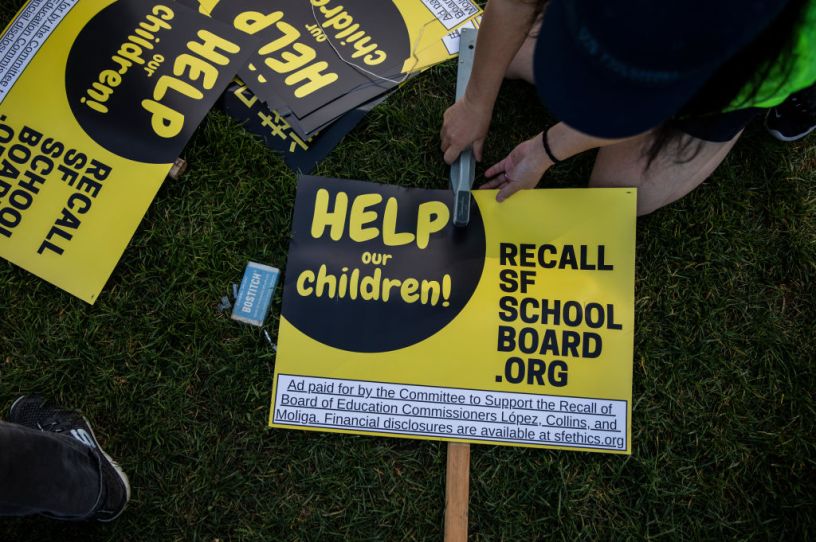 Michelle Wong makes a sign during a rally in support of the San Francisco School Board recall in February. (Stephen Lam/The San Francisco Chronicle via Getty Images)
ASHBURN, Va.—Loudoun County's K-12 curriculum and instruction meeting kicked off last Thursday as a snapshot of the mundane: a laundry list of policies involving family life education, whether to charge families for music books, and how to prioritize American Sign Language for high school students.
Then came the culture war update: A brief primer on a draft policy that, beginning January 1, requires schools to notify parents when students are to be taught sexually explicit material in school. "We have teams of teachers right now kind of crowdsourcing titles of book club books," a visibly uncomfortable Neil Slevin, executive director of the county's Division of Teaching and Learning, said to the small crowd. "They're working together to try to screen the books."
The new policy was drafted in response to a Virginia Senate bill signed by GOP Gov. Glenn Youngkin in April. It represents a big win for Republicans nationwide who see local school board races as venues for culture war fights, including pandemic-related school closures and mask mandates, plus the roles race and gender identity should play in K-12 education.
Even though they don't attract the same level of media attention as politicians running for higher office, school board candidates across the country are being boosted by conservative-leaning political action committees. Many PACs align closely with Youngkin, whose outsize focus on critical race theory and school closures on the campaign trail last year re-upped K-12 education as a winning issue for the GOP across the country.