The Politics of Fear Has Its Limits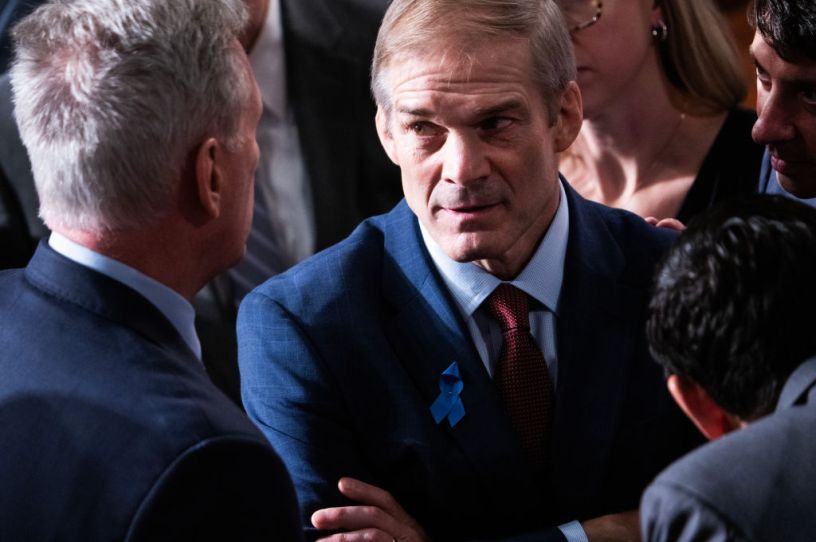 Rep. Jim Jordan, Republican nominee for speaker of the House, and Rep. Kevin McCarthy, talk on the House floor of the U.S. Capitol after a second ballot vote in which Jordan failed to receive enough votes to win the position on Wednesday, October 18, 2023. (Tom Williams/CQ-Roll Call, Inc via Getty Images)
Audible gasps rang out in the House chamber Tuesday when Rep. Kay Granger of Texas cast her vote for speaker. The formidable, 80-year-old Republican with more than a quarter century of experience on Capitol Hill voted not for Rep. Jim Jordan like the vast majority of her GOP colleagues, but for the man Jordan's allies had helped shunt aside: Majority Leader Steve Scalise.
Granger's decision wasn't a surprise because it was the decisive vote for the House GOP's slim majority; she was only one of 20 Republicans on Tuesday—and 22 on Wednesday—to vote against Jordan and deny him the speakership. Her opposition to Jordan shocked her colleagues because of what it represented. As chair of the powerful Appropriations Committee, Granger might have been expected to align herself with a future speaker, who has considerable influence over both the committee process and the business brought to the House floor for votes. That she didn't was a strong statement of no confidence in the party's designee from a House veteran.
Shortly after Tuesday's vote, The Dispatch asked Granger what Jordan would have to do to earn her support. "I'm not doing that," the congresswoman replied, dismissively waving her hand before walking away.
The question might have been better posed to Jordan: What was he doing in order to get this critical leader in the conference on his side? A statement from Granger on Wednesday following Republicans' second failed attempt to elect a new speaker hints at how Jordan and his allies have been approaching institutionalist holdouts like her.
You're out of free articles
Create an account to unlock 1 more articles