The Real Problem With the Manhattan DA's Case Against Trump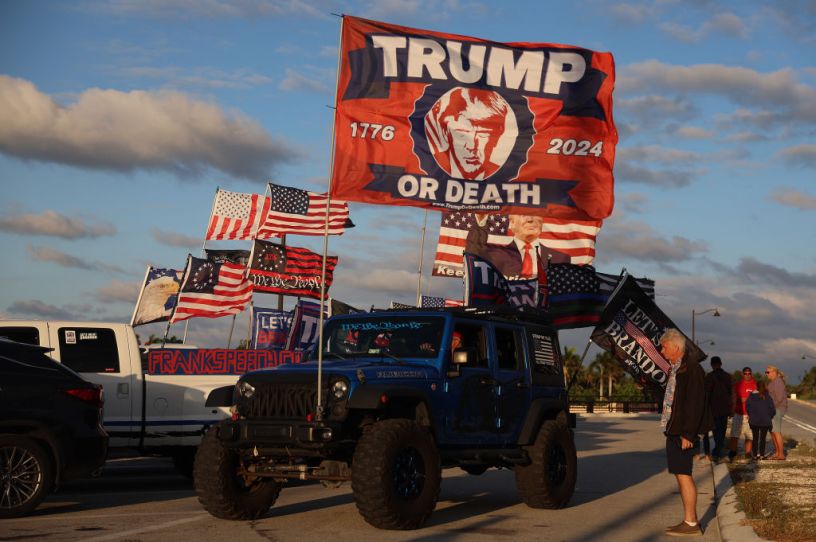 Robert Fix shows his support for Donald Trump near his Mar-a-Lago home on March 20, 2023 in Palm Beach, Florida. (Photo by Joe Raedle/Getty Images)
"There is hardly any political question in the United States that sooner or later does not turn into a judicial question," Alexis de Tocqueville, the brilliant observer of American life, wrote.
I'm pretty sure de Tocqueville didn't have in mind scenarios like Donald Trump using a (now disgraced and disbarred) bagman-lawyer, Michael Cohen, to front hush money to a porn star and then recording the $130,000 reimbursement as "legal fees."
But here we are. According to various reports—including panicked squeals in ALL CAPS from Trump himself—Manhattan District Attorney Alvin Bragg is preparing to indict Trump for exactly that.
Some further context is in order. As shocking as this may sound, Trump has not always felt particularly constrained by the holy bonds of matrimony. He famously cheated on his first wife, Ivana Trump, with the woman who would become his second, Marla Maples. The sordid spectacle, often at his urging, was on display in the New York media. Then in 1998, a year before Trump's divorce from Maples was finalized, he met Melania Knauss, a Slovenian model. After dating for several years, they were engaged in 2004, married in 2005, and in 2006 she gave birth to their son, Barron.