To Address Shootings, Do the Work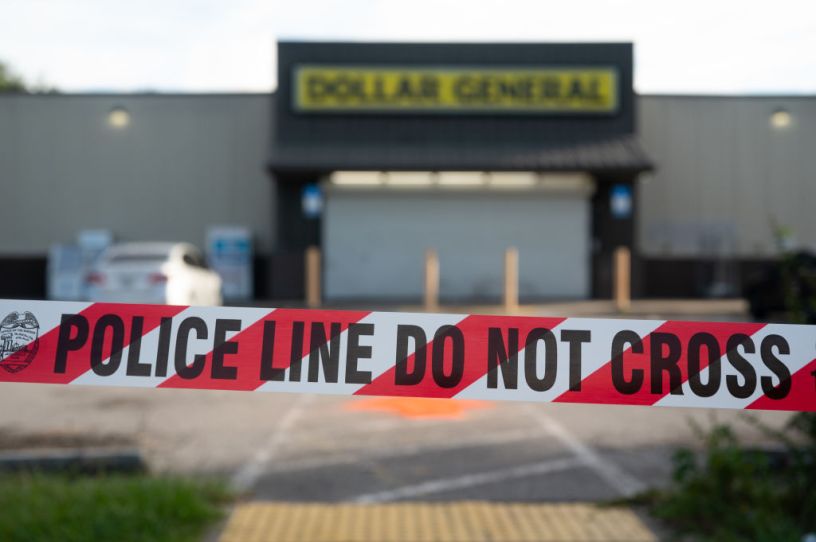 Crime scene tape stretches across the property of a Dollar General store where three people were shot and killed two days earlier on August 28, 2023, in Jacksonville, Florida. (Photo by Sean Rayford/Getty Images)
The recent shooting at a Dollar General store in Jacksonville, Florida, has something in common with a great many other mass shootings of its kind: The shooter was known to police and mental health professionals, who did essentially nothing to prevent the atrocity that the killer ultimately carried out.
Doing nothing is, in fact, a pretty common course of action in these cases—right up until the point at which everybody says that nobody could have seen this coming when, in reality, a whole lot of people pretty plainly did see it coming. You could have watched the Jacksonville killer getting geared up on TikTok if you wanted to literally see it coming—there was a video taken by a bystander after he was turned away by security at nearby Edward Waters University, a historically black institution that was probably the killer's intended target.
The Jacksonville shooter was a troubled young man from a troubled family. Police had been dispatched to his family home over at least one domestic-disturbance complaint involving the future killer (a minor at the time) and his older brother, who currently is serving a prison sentence for felony robbery. As an adult, the killer again came into contact with authorities when he threatened to kill himself and was involuntarily held for psychiatric evaluation under a Florida law known as the Baker Act.
Getting "Baker Acted," as the local legal jargon puts it, is a serious matter in Florida. It begins with a 72-hour period of involuntary custody, after which the subject may be held for as long as six months for involuntary treatment after a court hearing. Baker Act proceedings can be initiated by a judge, by certain mental health professionals, or by law enforcement personnel. The law requires that the subject be mentally impaired in some significant way (and not merely from the results of drug or alcohol abuse), unable to understand why a mental health evaluation is necessary, and likely to cause harm to himself or others without intervention.