To Thine Own Self Be True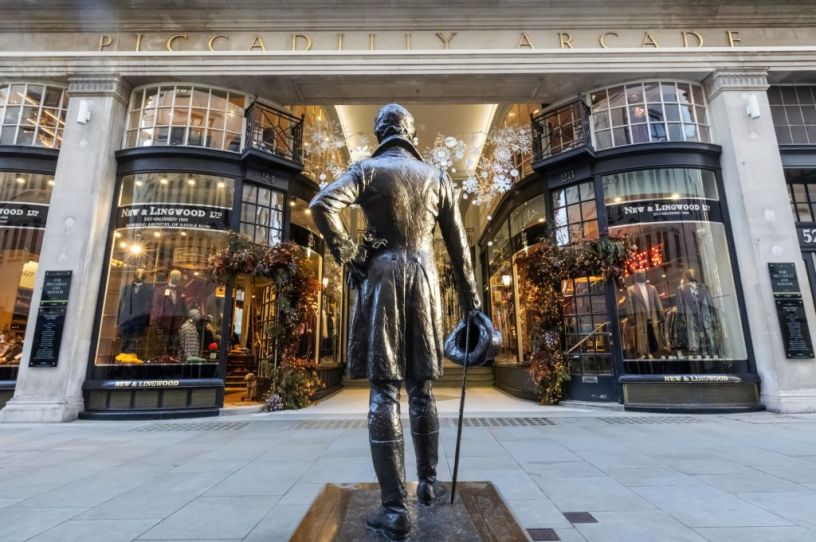 Beau Brummell Statue and Piccadilly Arcade in London, England. (Photo Credit: Prisma by Dukas/Universal Images Group via Getty Images)
One summer, faced with four weeks of boring swim lessons at the municipal pool, my best friend and I came up with a plan to alleviate the tedium. We would not be the pedestrian, Pennsylvanian Clare and Caroline; we would be Jessica and Justine, exchange students visiting from France. Our assumed identities likely fooled few, but for four weeks we dazzled at our own reflected glamour. We babbled chic gibberish at each other, spouted meretricious facts about Paris, and maintained a thick Pink Panther accent while learning the breaststroke. 
Convincing anyone soon became beside the point: Being Jessica and Justine was an end in itself. We felt our superiority, we pitied the pauvre enfants Americaines. Quelle provincial! Such is the heady power of self-creation, of becoming the arbiter and efficient cause of what others see rather than passively experiencing their gaze.
The subjects of Tara Isabella Burton's latest sociological, theological, historical romp all enjoy and exploit this powerful process of self-creation, though on a grander and (mostly) less ridiculous scale. Her book Self-Made: Creating Our Identities From Da Vinci to the Kardashians begins with Renaissance artist Albrecht Dürer and ends with the titular pop culture phenoms. In between, Burton surveys personalities as big as Frederick Douglass, P.T. Barnum, Oscar Wilde, and Clara Bow, to list only a few. Though seemingly unrelated, each of the characters in this murderer's row of modern achievement and eccentricity is united by the power of fashioning his or her own identity.
Burton is more interested in the carnival of personalities that populate her narrative than in an aggressively conceived or exhaustively argued thesis. She has an eye for tableau and an ear for anecdote. As the book trips along from Gabriele D'Annunzio's fantastic, highly illegal, nationalistic utopian city state, on to a 1970s California family who starred in one of America's first reality TV programs (in hopes of becoming "West Coast Kennedys," of all things), Burton combines the heft of meticulous research with the engaging lightness—and slight salaciousness—of a good beach read.