Turkey on the Brink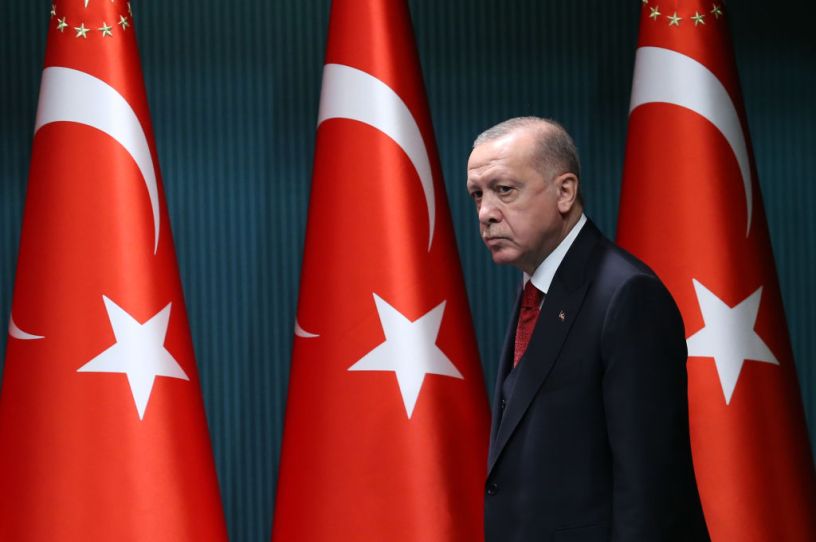 President Erdogan of Turkey in 2020. (Photo by ADEM ALTAN/AFP via Getty Images)
ISTANBUL—Ekrem Imamoglu, mayor of this bustling city of more than 15 million, is perhaps the greatest threat to Turkish President Recep Tayyip Erdogan's bid for reelection. The bespectacled 52-year-old also is facing a four-year jail sentence and ban on holding public office after being charged with "insulting" election officials. His defenders say this isn't a coincidence.
Imamoglu rose to national prominence after beating Erdogan's handpicked candidate for Istanbul mayor in 2019. After a partisan election commission canceled the results over alleged fraud, he won the repeat election by nearly ten points. The opposition now hopes to translate local wins like Imamoglu's into success in Turkey's upcoming presidential election.
It has a real shot for the first time in years, and this could lead to a reset between Turkey and the West in general and the U.S. in particular. But in the meantime, relations could suffer as Erdogan builds on nationalist sentiment.
An alliance of six opposition parties, led by the center-left Republican People's Party (CHP), agreed in February to select a joint presidential candidate to unseat Erdogan. The faltering popularity of Turkey's sole executive has brought that goal within reach, but the opposition needs to act fast. With the election six months away the alliance has yet to name its standard-bearer, and Erdogan, who spent the past decade consolidating presidential power and solidifying his grasp on civil society, may take drastic steps to stay in power. The Istanbul mayor's supporters say the charges against their leader are only one example.