Vivek Ramaswamy's Garbled January 6 Hypothesis, Explained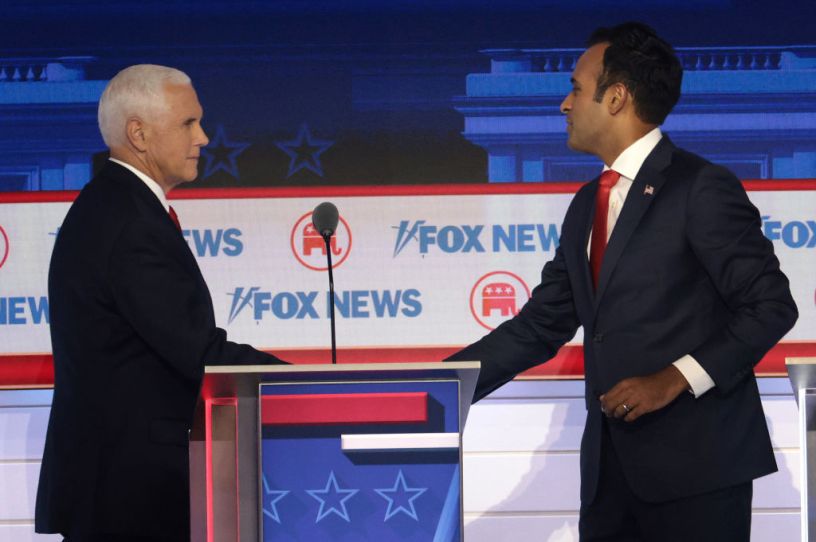 Republican presidential candidates Mike Pence and Vivek Ramaswamy shake hands during the first debate of the GOP primary season on August 23, 2023, in Milwaukee, Wisconsin. (Photo by Win McNamee/Getty Images)
More than two and a half years after the certification of the Electoral College votes in the 2020 presidential election, most Republican politicians' responses to questions about January 6 fall into one of two categories: a reflexive embrace of former President Donald Trump's assertion that then-Vice President Mike Pence and Congress should have rejected states' election results, or a rejection of it.
But Vivek Ramaswamy—a biotech entrepreneur and presidential candidate—has tried to chart a third path. Instead of forthrightly embracing or rejecting Trump's baseless claims of election fraud and the attack those claims inspired, he argues that Pence missed out on an "opportunity for heroism." Had he been vice president at the time, Ramaswamy has said he would have assuaged voters' concerns about election security while also ensuring a peaceful transition of power. (In his 2022 book, Nation of Victims, Ramaswamy condemned January 6 as a "dark day for democracy.")
Ramaswamy's answers to questions about January 6 have been confusing—but could his counterfactual plan have worked?
What has Vivek said about the role of the vice president on January 6?