What Israel and Ukraine Have in Common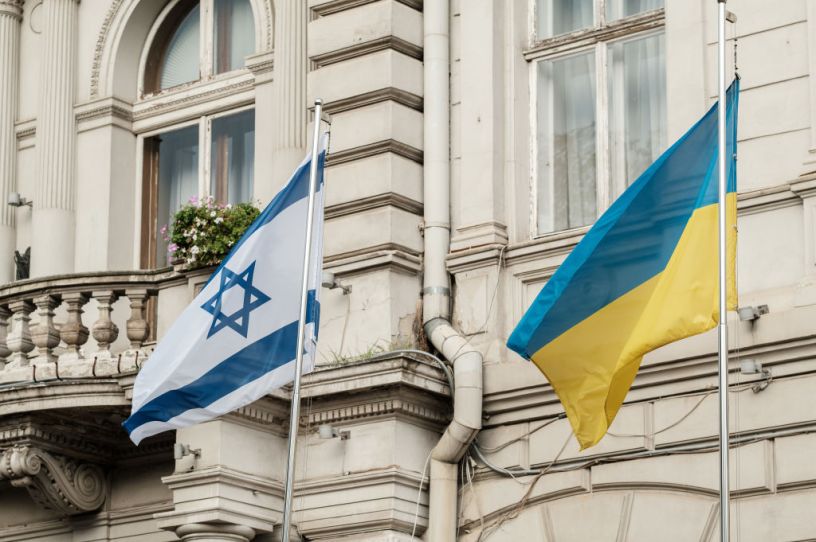 Flag of Israel flies in front of the Lviv Regional State Administration building as a sign of solidarity with the Israeli people on October 13, 2023 in Lviv, Ukraine. (Photo by Les Kasyanov/Global Images Ukraine/Getty Images)
In normal times, domestic political fights over foreign policy break down more or less along a conventional left-right divide. These are not normal times.
The right is largely united around the need to support Israel in its war with Hamas, but increasingly divided about backing Ukraine in its war with Russia. The left is largely united around the need to help Ukraine, but more divided about siding with Israel.
It's not perfectly symmetrical. Democrats are more unified on Israel, in part because of President Biden's unequivocal support. But it's early. After all, the history of the Democratic Party resisting campus radicals and the "anti-war" left is not a tale of heroic resolve. That the response on campuses to a terrorist pogrom was to immediately express support for Palestinians does not suggest the left-wing fringe will come around to a more nuanced stance.
Meanwhile, even though the GOP is unified in its support for Israel—to the point where even many America Firsters have abandoned all foreign policy consistency to show solidarity with Israel—skepticism over support for Israel is growing on the fringes, especially on social media.
You're out of free articles
Create an account to unlock 1 more articles