What We've Learned in Previous January 6 Hearings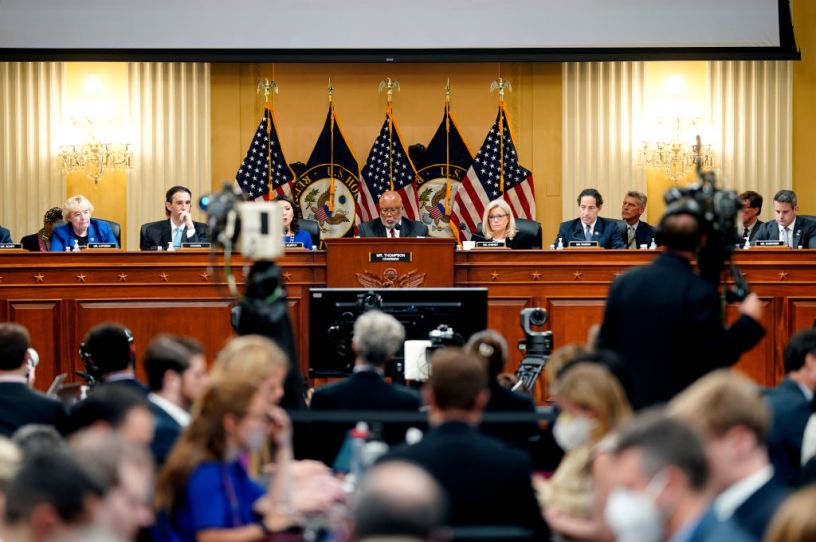 The House January 6 committee meets in July. (Photo by Doug Mills-Pool/Getty Images)
The long list of former President Donald Trump's legal woes has grown even longer in recent months. Between legal fights over his business interests or handling of classified information, it can be easy to forget that the House is investigating Trump's role in the 2021 Capitol attack. While the January 6 committee has kept quiet recently, that could soon change.
The committee will hold a hearing on Thursday at 1 p.m—its first in 12 weeks. It was originally scheduled for September 28 but officially postponed due to Hurricane Ian. The committee interviewed Ginni Thomas, wife of Supreme Court Justice Clarence Thomas, on September 29, though it's unclear whether her testimony will be incorporated into the hearing. She is known for her belief that the 2020 election was stolen from Trump and is well-connected in his inner circle.
Also uncertain is whether this hearing will be the last. "We don't anticipate that it will be the last hearing," Rep. Liz Cheney, the committee's vice chair, said last month. But Rep. Adam Schiff said that it would be "the last hearing of this nature" and that "it'll be potentially more sweeping than some of the other hearings."
The House of Representatives is scheduled to be out of session until after Election Day, and the committee must publish its final report before the next Congress is sworn in on January 3.