Will South Korea Go Nuclear?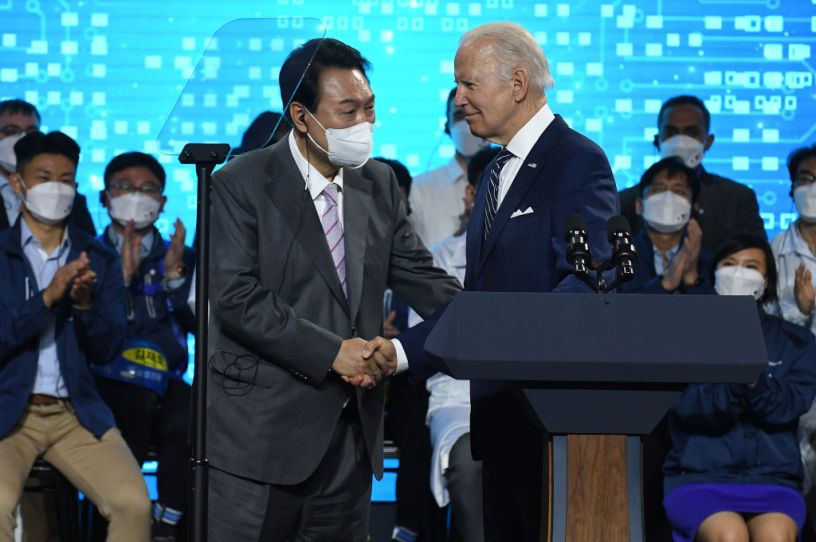 President Biden and South Korean President Yoon Suk-yeol. (Photo by Kim Min-Hee - Pool/Getty Images)
South Korea has begun to publicly discuss what was once unthinkable: pursuing its own nuclear weapons program. Such a move is unlikely to deter North Korea—but it could alienate Seoul's most important ally.
North Korean leader Kim Jong Un has spent President Joe Biden's time in office pledging to "beef up" his nuclear arsenal while testing a record number of missiles. Between Biden's abandonment of America's Afghan allies, and Russia's brutal invasion of Ukraine, South Koreans increasingly question the United States' commitment to their defense.
"It's possible that the problem gets worse and our country will introduce tactical nuclear weapons or build them on our own," South Korean President Yoon Suk-yeol said this month. "If that's the case, we can have our own nuclear weapons pretty quickly, given our scientific and technological capabilities."
Yoon's comments reflect a growing consensus in South Korea that the country needs more of a stake in its own national defense. More than 70 percent of South Koreans were in favor of acquiring nuclear weapons, a 2022 study by the Chicago Council on Global Affairs found. That's as clear a sign as any of the country's waning faith in its alliance with the United States.