File the Discharge Petition Now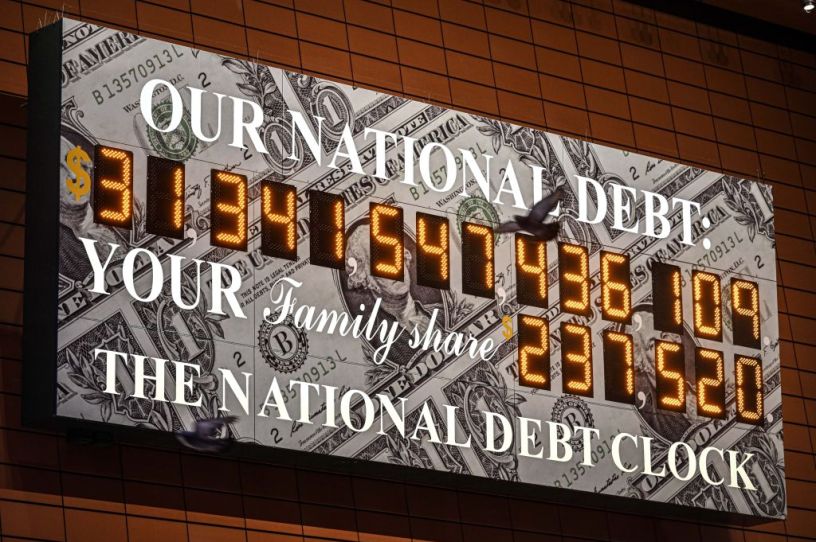 A screen shows the national debt clock after the US.. hit its debt limit and the Treasury started using "extraordinary measures" to avoid default on January 19, 2023. (Photo by Fatih Aktas/Anadolu Agency/Getty Images.)
Happy Debt Ceiling Day to all who celebrate.
This morning Treasury Secretary Janet Yellen took "extraordinary measures" to continue paying Uncle Sam's bills, a misnomer given that there's nothing very extraordinary about it. By Josh Barro's count, the Treasury Department has had to resort to extraordinary measures seven times in the past 12 years. That's what happens when the ordinary way of making good on our obligations, i.e., Congress voting to raise the debt ceiling, is no longer ordinary.
Few occasions put me in a "late republic" mood the way Debt Ceiling Day does. It's one thing for government to prove inept at solving crises that are foisted upon it, it's quite another for government to manufacture those crises itself. Lunging from cliffhanger to cliffhanger, emergency to emergency, the Greatest Country in the World continues to tempt fate in the belief that nothing really bad can happen by racking up unsustainable debt and then trying to manage it through spasms of high-stakes standoffs.
Treasury's arsenal of "extraordinary measures" isn't limitless. If they run out this summer before the debt ceiling is raised legislatively, the U.S. government will no longer be able to pay all of its creditors. Global faith in the world's most reliable debtor would tremble, markets would tank, American citizens who depend on federal payments to survive might be temporarily cut off, and our sovereign debt could be downgraded, requiring higher interest payments on that debt going forward.
Get every newsletter and all of The Dispatch. Support quality, fact-based journalism.
Start Your Free Trial
ALREADY A PAID SUBSCRIBER? SIGN IN