Herding Cats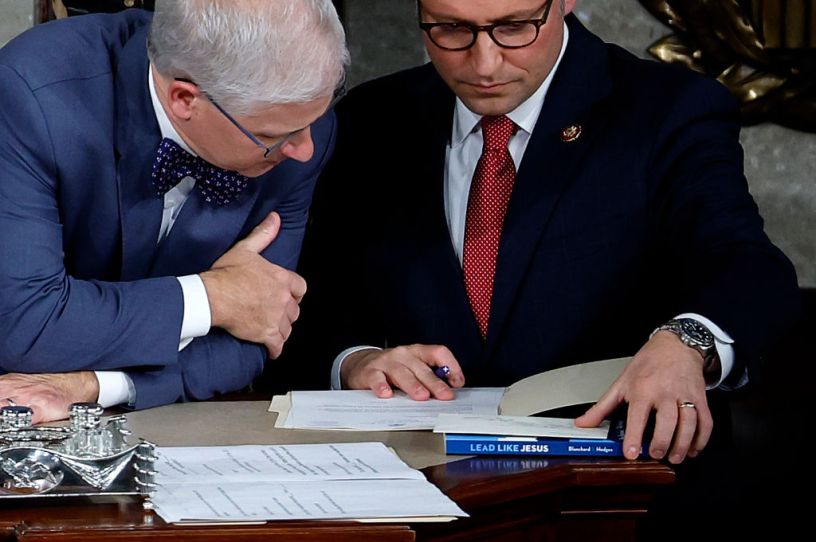 Former Speaker Pro Tempore Rep. Patrick McHenry talks to then-Rep. Mike Johnson before the House of Representatives holds an election for a new Speaker of the House at the U.S. Capitol on October 25, 2023 in Washington, D.C. (Photo by Chip Somodevilla/Getty Images)
Imagine you've just been elected speaker of the House by a conference that can't agree on anything, including who should be speaker of the House.
What would your top priority be in your first weeks on the job?
House Republicans did finally agree on something when they elected Mike Johnson, of course, but it took weeks of political agony—and ultimately pure exhaustion—to force them into alignment. He was the fifth choice of his colleagues, behind Kevin McCarthy, Steve Scalise, Jim Jordan, and Tom Emmer. No speaker in modern American history has begun from a position of such weakness.
So imagine you're Mike Johnson, having just been handed the gavel. You're desperate to restore order to the House majority and prove that you can lead. What's your first order of business? A government funding bill? Aid to Ukraine? Weapons for Israel?
No. Your first major order of business is simply to prove that you can get 217 votes on major legislation from your fractious, ungovernable, two-parties-under-one-banner laughingstock of a conference. Which is just what Johnson has undertaken to do.