The Hamas Vote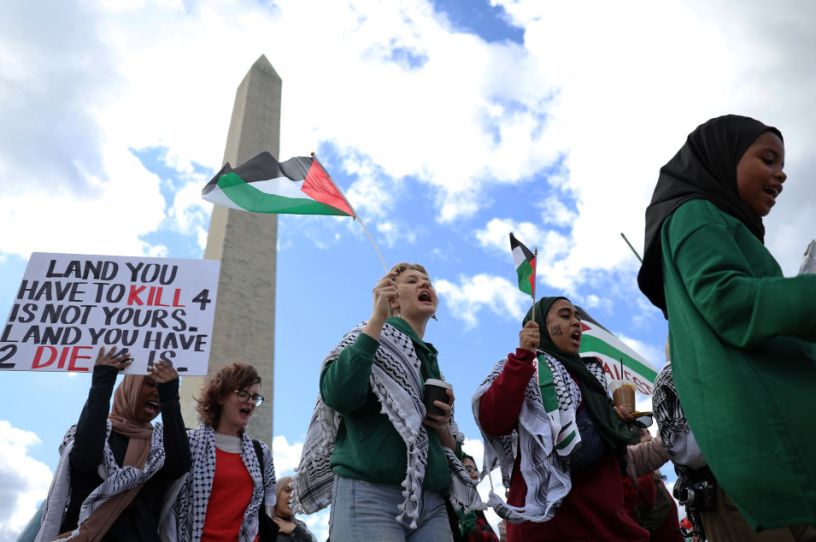 Pro-Palestinian protesters carry Palestinian flags and signs as they march by the Washington Monument during a demonstration calling for a ceasefire in Gaza on October 21, 2023 in Washington, D.C. (Photo by Justin Sullivan/Getty Images)
A conservative, the saying goes, is a liberal who's been mugged by reality. And there have been a whole lot of muggings in recent days.
Democrats horrified by Hamas' pogrom in Israel on October 7 have spent the weeks since absorbing the fact that some of their progressive allies either don't care about the bloodletting or are downright gleeful about it.
For the past few weeks, social media has been teeming with videos (usually from an American campus somewhere) of protesters chanting about the elimination of Israel, spitefully tearing down "missing" posters of Israeli hostages, or intimidating Jews nearby. Pro-Palestinian sympathizers have also been active online, policing rhetoric that they deem too morally sympathetic to Israel. When a writer at New York magazine pointed to one grisly account of the atrocities committed on October 7, he was pressured into issuing a clarification the next day: Just because Israeli babies were found afterward without heads, he acknowledged, doesn't prove that they were beheaded.