Racket Ball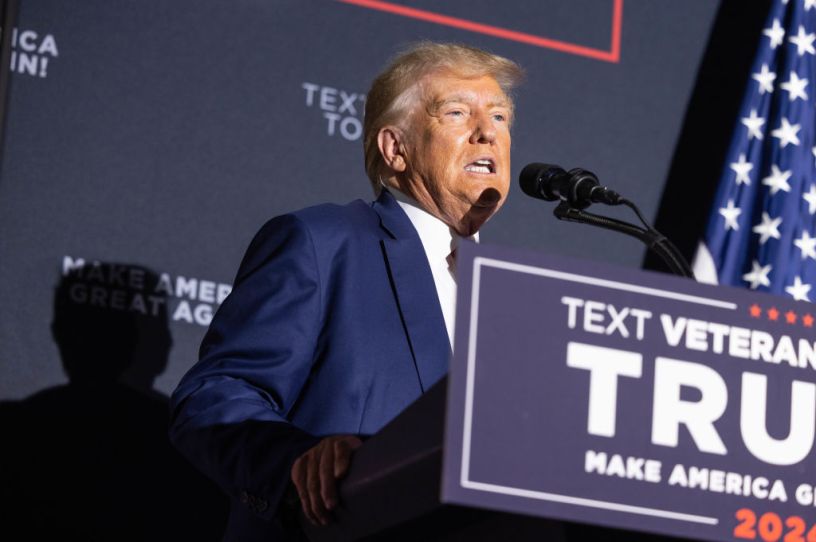 Former President Donald Trump delivers remarks at Windham High School on August 8, 2023, in Windham, New Hampshire. (Photo by Scott Eisen/Getty Images)
Just as parents shouldn't play favorites with their children, a Trump critic shouldn't play favorites with his indictments. They're all special in their own way.
But if we're being honest, there's a pecking order.
The first indictment, charging Trump with falsifying business records related to the hush money paid to Stormy Daniels, is the problem child. This one might make something of itself in the long run, but it's not very bright and no one's expecting much from it. It's a troublemaker.
The second indictment, charging Trump with concealing classified documents, is the dependable child. It's no-nonsense, straightforward, and rock solid, the child you leave in charge when you have to run errands. If anyone's going to deliver a conviction, it's this kid.
The third indictment, charging Trump with crimes related to trying to overturn the 2020 election, is the ambitious child. This one means well and has big aspirations. It might very well go on to great things. But it risks biting off more than it can chew. Expect spectacular success—or spectacular failure.
The fourth indictment, handed down on Monday night for election tampering in Georgia, is the favorite child.
The favorite child is the one that's most like you, that sees the world as you do. It doesn't get held to the same standards as the other three. There's a special connection.
The special connection between the Georgia indictment and Trump's critics is that it recognizes his attempt to overturn the 2020 election was a conspiracy with many accomplices.
Eighteen people besides the man himself were charged in Fulton County. "This is basically a RICO indictment of the Republican Party. As it should be," former Republican strategist Stuart Stevens tweeted afterward. "Every Republican elected official who refused to acknowledge the winner of the 2020 election is an unindicted co-conspirator."
I agree. There are no "Trump problems" in the GOP, I've said before, only problems with lackeys and voters facilitating his most corrupt impulses. Georgia's indictment is the first to reflect it. (Charges may yet be filed against the likes of John Eastman and Jeffrey Clark in the January 6 matter.) Whether Trump's campaign was, as the document alleges, a "criminal enterprise" within the meaning of the law in January 2021 is for a jury to decide. But it was plainly a corrupt scheme with many willing participants—a racket, in short.
You're out of free articles
Create an account to unlock 1 more articles