The Primary That Wasn't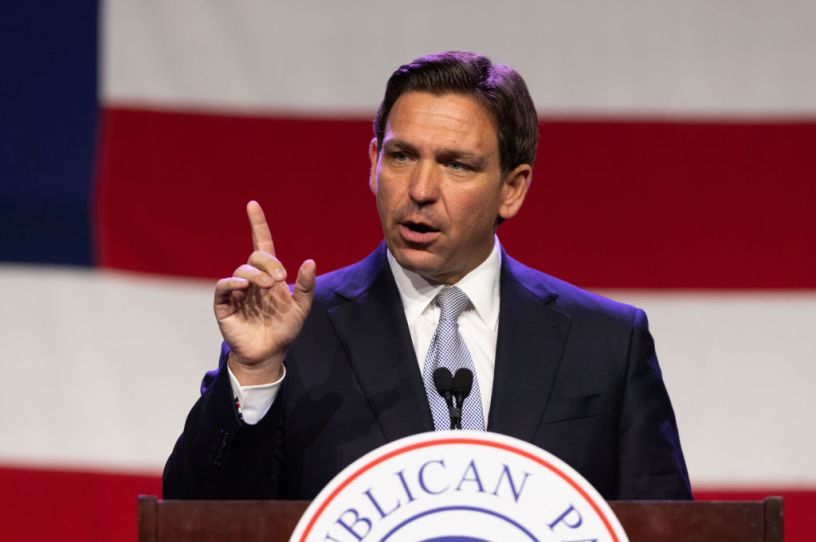 Republican candidate Ron DeSantis speaks during the Republican Party of Iowa 2023 Lincoln Dinner at the Iowa Events Center in Des Moines, Iowa, Friday, July 28, 2023. (Photo by Rebecca S. Gratz/Washington Post/Getty Images)
Last night a colleague at The Dispatch emailed me about yesterday's newsletter. Nice column, this person said, except for one passage that didn't land. It's this one, where I summarized the latest iteration of Ron DeSantis' pitch to Republicans:
Insofar as mail ballots tilted the outcome in 2020, Trump is to blame. If Republicans end up blowing an otherwise winnable election in 2024 by harping on 2020, Trump is to blame. Not coincidentally, those two points reflect the two grand themes of DeSantis' campaign—competence and electability vis-a-vis the frontrunner.
Isn't that, er, wrong?
Competence and electability should have been the themes of DeSantis' campaign, my colleague argued. The actual theme of the campaign is, well …
Seven times in 26 seconds. DeSantis 2024: A noun, a verb, and "woke."
News broke on Tuesday that the governor's campaign manager, Generra Peck, has finally been demoted. (The number of "resets" DeSantis has ordered in the past six weeks is approaching the number of "wokes" in his stump speech.) That came a day after a poll found him sliding to single digits in New Hampshire, tied for second with Chris Christie at 9 percent. The moment seems ripe for a premortem: Would a campaign that had emphasized competence and electability from the jump be doing better than one prone to chumming the online waters with "woke" pandering and dank memes featuring white-supremacist iconography?
I mean, yes? How could it have fared worse?