Trump the Moderate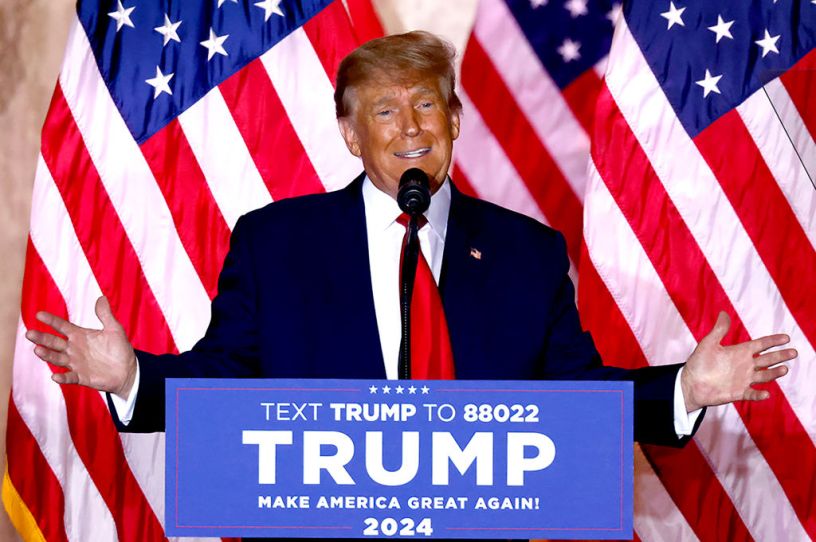 Former President Donald Trump. (Photo by Alon Skuy/AFP/Getty Images.)
An immutable law of American media is that today's Republican villain is tomorrow's exemplar of Republican virtue. Ronald Reagan, George W. Bush, and Mitt Romney all saw their reputations redeemed to a degree among liberals once they were no longer a threat to win the presidency, the better to indict some emerging threat. "The same will happen with Trump," many conservatives will tell you. "Just watch. If DeSantis is the nominee in 2024, the press will spend six months telling us he's the scariest Republican yet."
One reason that law persists is, well, it's sort of true. From Reagan to Bush/Romney and then to Trump does illustrate a meaningful decline in the quality of Republican leadership and a transition from more libertarian-minded conservatism to "business lobby" conservatism to authoritarianism. And Reagan, Bush, and Romney each really did look better on the merits over time. The Cold War ended with American victory shortly after Reagan left office. Bush eschewed the bitter partisan rancor of the Obama years and profited from the contrast in personalities with Trump. Romney behaved courageously by twice supporting Trump's impeachment and has tried to legislate creatively as a senator. The media's rehabilitation of old right-wing demons isn't always a cynical scheme to damn the latest right-wing demon by comparison.
But thinking that whoever follows a twice-impeached coup-plotter as Republican nominee might be worse than he was? That's pretty cynical.
On Monday Vanity Fair columnist Bess Levin published a piece titled "A Comprehensive Guide to Why a Ron DeSantis Presidency Would Be as Terrifying as a Trump One." It wasn't an argument for preferring Trump to DeSantis; the former guy "should be legally prohibited from coming within 1,000 feet of the Oval Office and it would clearly be a boon for humanity if he was never heard from or seen again," Levin wrote. But it was an argument that DeSantis "would be no better" as president than Trump was, a recommendation of remaining agnostic given a choice between the two.
Get every newsletter and all of The Dispatch. Support quality, fact-based journalism.
Start Your Free Trial
ALREADY A PAID SUBSCRIBER? SIGN IN