Who's The Extremist?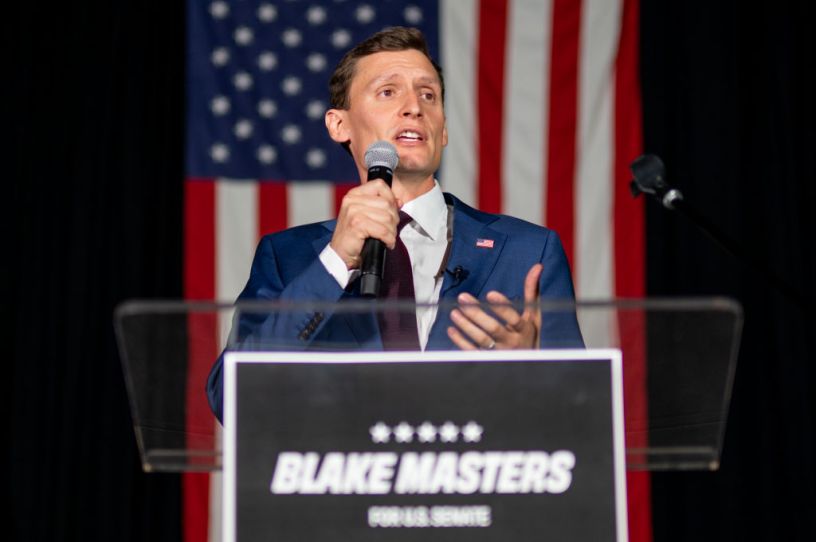 Blake Masters has moderated his messaging on abortion, and some fellow Republicans have followed suit. (Photo by Brandon Bell/Getty Images)
Whom do you like in a contest between the irresistible force and the immovable object?
Asked last week on The Dispatch Podcast which party he thinks will take the Senate, my colleague David French threw up his hands. Public anxiety over crime and inflation is real, he noted, and those problems aren't abstractions the way so many policy issues are. They hit you where you live. If you're looking over your shoulder when you walk down the street, if you're having to substitute beans for meat at the supermarket, you carry your unhappiness with the status quo in your knotted gut.
Crime-flation is an irresistible electoral force and there isn't much Democrats can say about either part of it.
The COVID relief bill they passed last year is widely understood to have catalyzed rising prices. Hopes for a reprieve from inflation before Election Day are fading as gas prices begin to climb again, reminding voters of the White House's ludicrous beg-the-dictators-for-help energy policy. Presidents get blamed by voters for poor prevailing economic conditions even when they haven't left many fingerprints on the economy, and Joe Biden has left plenty.
You're out of free articles
Create an account to unlock 1 more articles