Enough Already With the Toddler Economics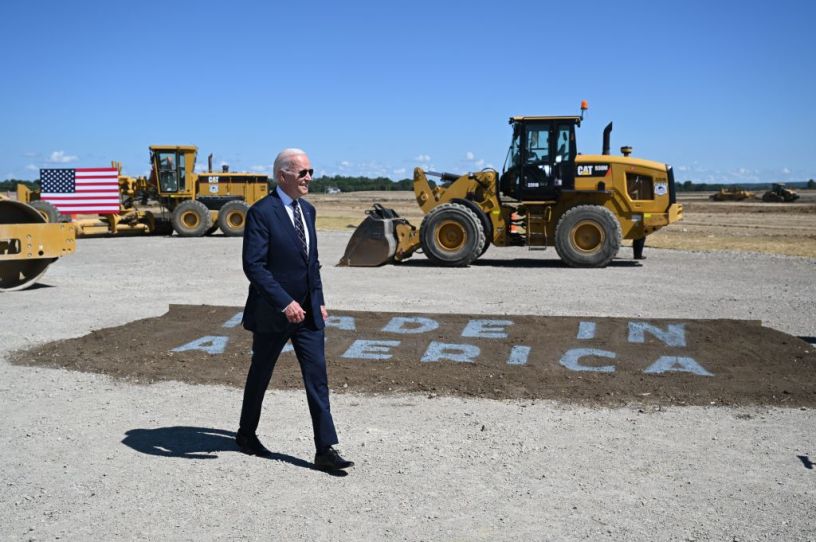 President Joe Biden arrives to speak on rebuilding U.S. manufacturing through the CHIPS and Science Act at the groundbreaking of the new Intel semiconductor manufacturing facility near New Albany, Ohio, on September 9, 2022. (Photo by Saul Loeb/AFP/Getty Images)
Dear Capitolisters,
An unexpected joy of parenthood has been watching my daughter do silly stuff that I did as a kid but from the perspective of a (cynical, budget-conscious) adult. Among the most delightful of her youthful endeavors have been many absurd "inventions" that required vast amounts of time and household materials (scotch tape, poster board, old charging cables, etc.) to—at best—re-create things we already had lying around the house. Of course, it wasn't great to later discover my empty stapler (or whatever), but any temporary inconveniences were dwarfed by listening to a small child excitedly explain her creation. Sometimes, she'd even end up making something—a pencil holder, a new dog leash/grooming belt combo, etc.—that kinda (sorta) made sense and actually (again, sorta) worked. Regardless, her process was endlessly entertaining.
But that process doesn't make for good economic policy, where—unlike a child's experiments, or even my adult gardening hobby—costs do matter and expected outcomes are tangible, not emotional. In the economic policy world, it's important not only that something arguably good happen, but also that it was effectuated in a good and reasonable way.
This calculus is not exactly groundbreaking stuff: It's Econ 101 and something most adults consider every day. Why are so many people on the right and left ignoring it and, perhaps even worse, calling such childishness "economics"?