Pour a Little Out for Your Neighborhood Industrial Policy Fan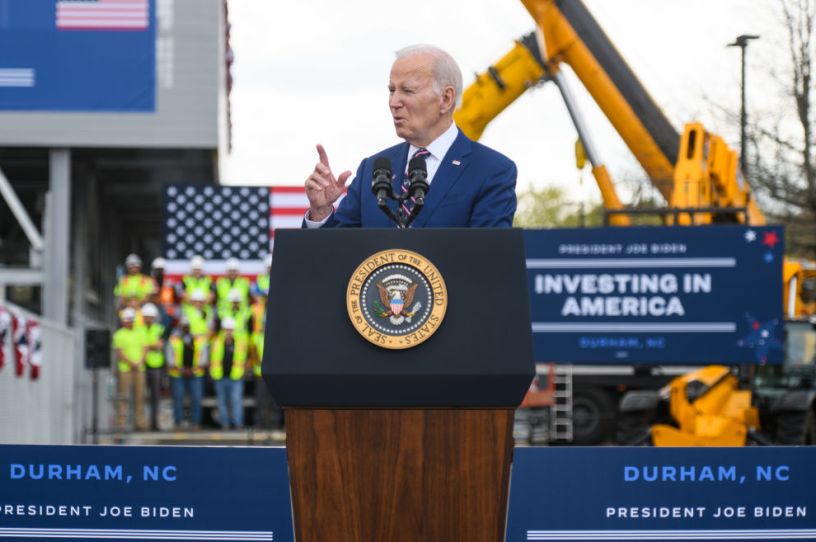 resident Joe Biden speaks during a visit to Wolfspeed, a semiconductor manufacturer, as he kicks off his Investing in America Tour on March 28, 2023, in Durham, North Carolina. (Photo by Melissa Sue Gerrits/Getty Images)
Dear Capitolisters,
Over the last few days, several high(ish)-profile industrial policy fans have decried the federal government's thus-far-problematic implementation of the programs they've so vigorously supported. (Capitolism has covered a lot of these wobbles in recent weeks, so feel free to go here, here, or here to catch up.) Kicking things off in the New York Times was Ezra Klein, who was "thrilled to see industrial policy revived" yet deeply troubled that the two biggest federal industrial policy laws—the CHIPS and Science Act and the IRA—were being imperiled by progressive add-ons and existing regulatory impediments that raise costs and slow projects. "Even if no single standard or mandate is decisive on its own," he worried, "the accumulation of them, in an industry [semiconductors] in which we've already fallen ruinously behind on cost, can do real damage"—even outright "failure."
From the right came American Compass' Oren Cass, who viewed the political strings attached to the CHIPS Act he's championed as "not only counterproductive with respect to chip capacity, but also an embarrassment for the broader effort to re-establish the American tradition of industrial policy" and—I kid you not—"so bizarre that one suspects the White House is actively baiting its opponents into turning against the entire project of rebuilding American manufacturing." Diabolical!
Finally, Substacker Noah Smith put a more optimistic spin on Klein's lament. After acknowledging that the various conditions imposed on U.S. industrial policy projects are obviously political, that "political payout schemes do not tend to lead to productive enterprise," and that numerous regulatory "roadblocks or veto points" could thwart recently announced U.S. industrial policy projects, Smith reassured his readers that these were mere speedbumps on the road to American industrial policy success:
Get every newsletter and all of The Dispatch. Support quality, fact-based journalism.
Start Your Free Trial
ALREADY A PAID SUBSCRIBER? SIGN IN