Another Ron DeSantis Campaign Reset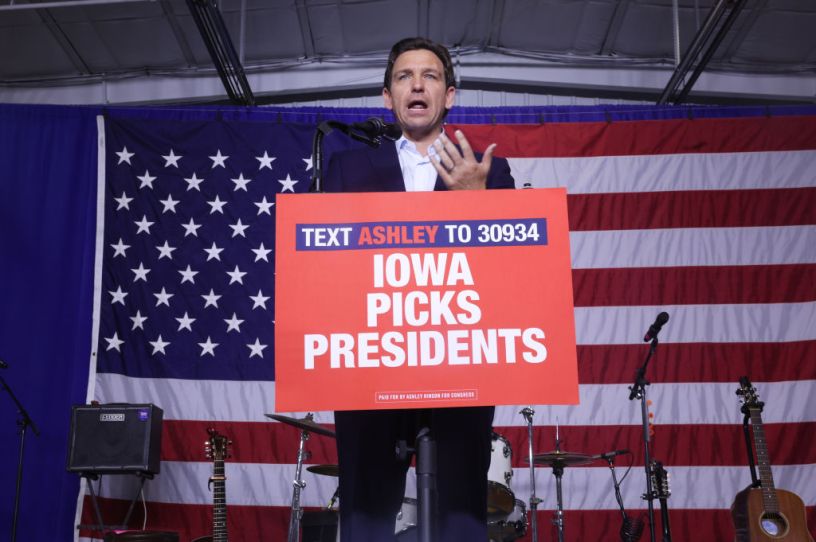 Florida Gov. Ron DeSantis speaks to guests at Ashley's BBQ Bash hosted by Rep. Ashley Hinson on August 6, 2023 in Cedar Rapids, Iowa. (Photo by Scott Olson/Getty Images)
Happy Wednesday! At least one of your Dispatch Politics writers is addicted to GOP Sen. Chuck Grassley's #cornwatch updates. We implore you to watch the Iowa senator's latest.
Up to Speed
DeSantis Reboot Reset 'Reload' Catches Staff Off Guard
Campaign staffers for Ron DeSantis were surprised to learn Tuesday morning that Generra Peck, the Florida governor's loyal campaign manager, was being replaced.
Not long after learning the news internally, staffers saw The Messenger first report that DeSantis' chief of staff in the governor's office, James Uthmeier, would be taking the reins from Peck, who is remaining with the campaign in an advisory role. David Polyansky, a senior adviser at the pro-DeSantis super PAC Never Back Down, is also joining as deputy campaign manager. The moves were just the latest in what has become a weeks-long reshuffling of the Republican's presidential campaign that included firing 38 staffers, shifting its media strategy, and scheduling more events for DeSantis to attend.
But what was once seen as a necessary, if late, change for DeSantis as he struggled to challenge frontrunner Donald Trump is now causing Republicans to wonder how many more resets—or "reloads," as The Messenger reports the campaign is calling this latest move—the candidate can make. It's also unclear what substantive change Uthmeier, perceived as an ally of Peck, will bring to the DeSantis campaign.