The Ron DeSantis Reset Gets Mixed Reviews After One Week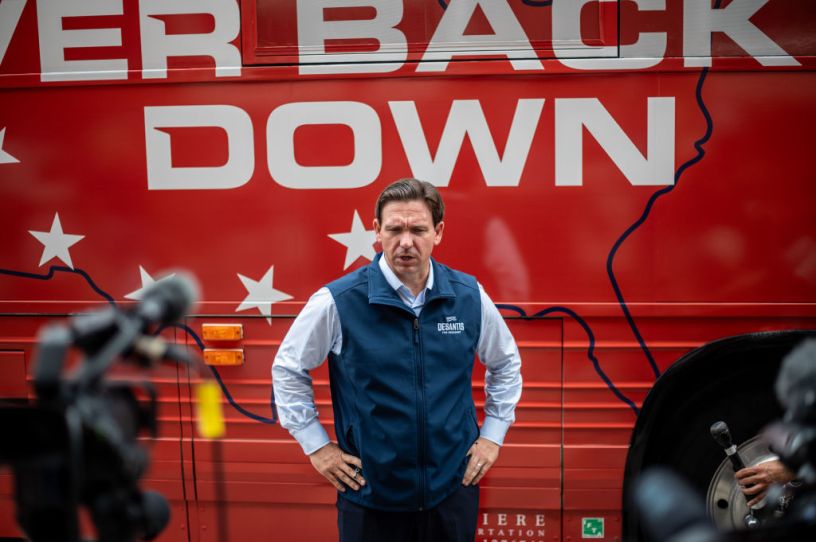 Florida Gov. Ron DeSantis speaks to members of the media after an event on Thursday, July 27, 2023 in Chariton, Iowa. (Sergio Flores for The Washington Post via Getty Images)
Happy Friday! Democratic Rep. Ami Bera of California and GOP strategist Rob Stutzman used to trade political punches. Now they are friends, united by their mutual love for golf … and contempt for former President Donald Trump.
Up to Speed
Former President Donald Trump pleaded not guilty to four criminal charges on Thursday regarding his efforts to overturn the 2020 presidential election. Trump was arraigned in a Washington courthouse with a direct view of where the January 6, 2021, insurrection at the Capitol took place.
An official with the Koch super PAC, Americans for Prosperity Action, tells The Dispatch the group expects to endorse a non-Trump GOP presidential candidate before the January 15 Iowa caucuses. Earlier this week, the group launched a seven figure ad buy in four early states—Iowa, New Hampshire, South Carolina, and Nevada—urging voters to move on from former President Donald Trump. "What we're finding is that a significant number of even Trump supporters recognize that he's a weak candidate, recognize that he has serious problems attracting independent swing voters, and would be open to an alternative candidate," says Bills Riggs, an AFP spokesman.
President Joe Biden continues to build out his campaign, this week hiring three senior DNC finance employees, according to Politico. Two will be the campaign's finance co-directors and the third will be the campaign's grassroots fundraising director. "These leaders have incomparable expertise that will ensure we leave no stone unturned to raise money using innovative tactics that reach supporters where they are," said campaign manager Julie Chavez Rodriguez.
Devon Archer, a former business associate of Hunter Biden, shared a letter he purportedly received from then-Vice President Joe Biden in 2011. It begins, "I apologize for not getting a chance to talk to you at the luncheon yesterday. I was having trouble getting away from hosting President Hu." The letter also includes a handwritten signature and a postscript that reads, "Happy you guys are together," referring to Hunter Biden and Archer's business partnership.
Rep. Dan Bishop, who initially opposed House Speaker Kevin McCarthy's bid for the gavel, announced on Thursday he will forgo reelection and run for North Carolina attorney general next year instead—consistent with The Dispatch's reporting last week. "Over the course of many months we've decided this is the right thing for me to do, to come back to North Carolina," said Bishop.
Trust in the Mission PAC, the group supporting Sen. Tim Scott's presidential bid, launched its third ad of the campaign on Thursday as part of a previously disclosed $7.25 million summer ad buy in Iowa. The super PAC also bought $40 million in ad reservations for this fall, bringing its total expenditures on ads to $47.25 million.
While struggling with her day-to-day functions on Capitol Hill, 90-year-old Sen. Dianne Feinstein of California is involved in a bitter family legal dispute over the fortune amassed by her late husband, Richard C. Blum. "The financial conflict is another element that makes the end of her career sad to people who have known her in the high points of her career," Feinstein biographer Jerry Roberts told the New York Times.
DeSantis Reset Rolls Out to Mixed Reviews
Ron DeSantis is barely one full week removed from a major campaign shakeup, and Republican insiders are already doubtful the changes will improve the Florida governor's sagging presidential prospects.
The most consistent criticism is that DeSantis still lacks a coherent, compelling message capable of dislodging Donald Trump from the pole position and coalescing a majority, or at least winning plurality, in key early primary states. Skepticism—about his basic political strategy and whether the governor is likable enough to excite voters—also continues to dog the campaign. Even some Republicans rooting for DeSantis, if for no other reason than they oppose the former president, call the reset disappointing.
"No one not on the spin team or the payroll is impressed; and many of those who are, are quietly eye-rolling," says a Republican operative in Florida, who requested anonymity to speak candidly.