Donald Trump Puts Pro-Lifers on the Back Foot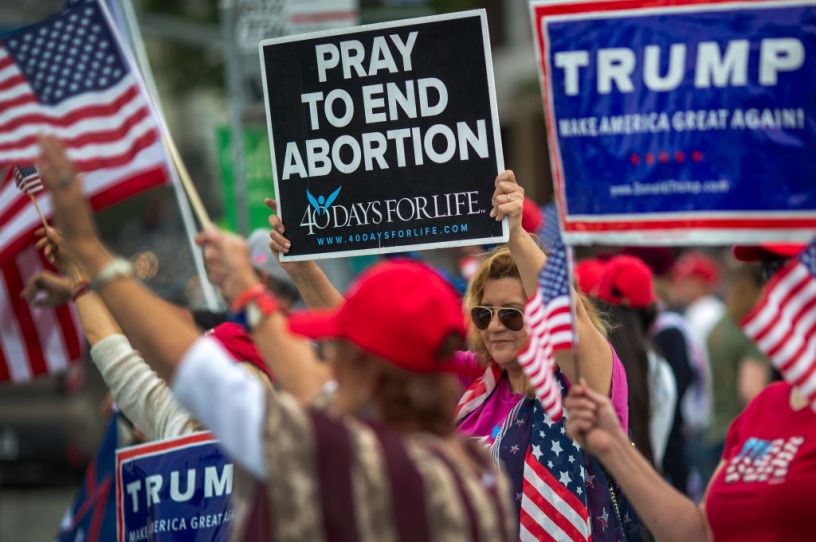 Supporters of Donald Trump rally outside the Wilshire Federal Building on June 2, 2019, in Los Angeles, California. (Photo by David McNew/Getty Images)
Happy Wednesday! A quick reminder that we're holding a Dispatch meet-and-greet tomorrow night in Des Moines, Iowa. Come say hi to Steve, Declan, and Andrew if you're in the area!
Up to Speed
Florida Gov. Ron DeSantis, a former member of the House Freedom Caucus, went after embattled House Speaker Kevin McCarthy Monday, pointing out on social media that McCarthy and Donald Trump had "worked together" to add $7 trillion to the national debt while in office together. "In Florida, we run budget surpluses," DeSantis wrote. "We've paid down our debt. I've kept every one of my promises." McCarthy had earned DeSantis' ire by telling Fox News over the weekend that the governor was not at the "same level" as Trump.
Meanwhile, McCarthy was forced Tuesday to push back plans for a vote on his allies' proposed short-term spending plan, acknowledging the reality that too many hardliners in the House Freedom Caucus still oppose it. Without a new spending package, which would also need to pass the Democratic Senate, the government will shut down at the end of the month.
Sen. Mike Braun of Indiana, running for the Republican nomination for governor, has endorsed Donald Trump in his party's 2024 presidential primary. "Donald Trump is the candidate capable of returning us to the America First policies that delivered unmatched prosperity and security for the American people," Braun said in a statement. Braun's decision is another example of the GOP's ongoing consolidation behind Trump in the race for the White House.
Amid President Joe Biden's late summer polling swoon, the Democratic Party on Tuesday won two crucial special elections for seats in the New Hampshire and Pennsylvania legislatures, respectively. In New Hampshire, the Democrats flipped a swingy, Republican-held district in the state House of Representatives anchored in Manchester, cutting the GOP majority in the chamber to just one seat. In Pennsylvania, the Democrats defended a blue, Pittsburgh-area seat, preserving their slim control of the state House of Representatives. The victories suggest Democrats are stronger, politically, than Biden's vulnerability suggests.
The Republican Jewish Coalition is hosting a cattle call next month in Las Vegas for GOP presidential contenders and other prominent party leaders. The October 27–29 conference will feature former President Donald Trump (in person, we're told), plus: Florida Gov. Ron DeSantis, Sen. Tim Scott of South Carolina, former South Carolina Gov. Nikki Haley, former Vice President Mike Pence, former New Jersey Gov. Chris Christie, and wealthy biotech entrepreneur Vivek Ramaswamy, among others. The annual RJC gathering is popular among Jewish Republican donors.
Trump Defends Himself on Life
This weekend, Donald Trump drew criticism from pro-life organizations after he unexpectedly attacked Gov. Ron DeSantis for signing a ban on early abortions in Florida earlier this year. On Tuesday, Trump pushed back against that criticism by pointing to the scoreboard.
"I was able to do something nobody thought was possible, end Roe v. Wade," Trump wrote on his social platform Truth Social. "Thanks to the three great Supreme Court justices I appointed, this issue has been returned to the States … Now the Pro Life Community has TREMENDOUS NEGOTIATING POWER."
Trump went on to write that abortion politics had cost Republicans "unnecessarily, but dearly" in last year's midterms, arguing that Republicans "must learn how to talk about" the issue better by embracing "the three exceptions for Rape, Incest, and the Life of the Mother."
You're out of free articles
Create an account to unlock 1 more articles