House Republicans Saddle Up for More Chaos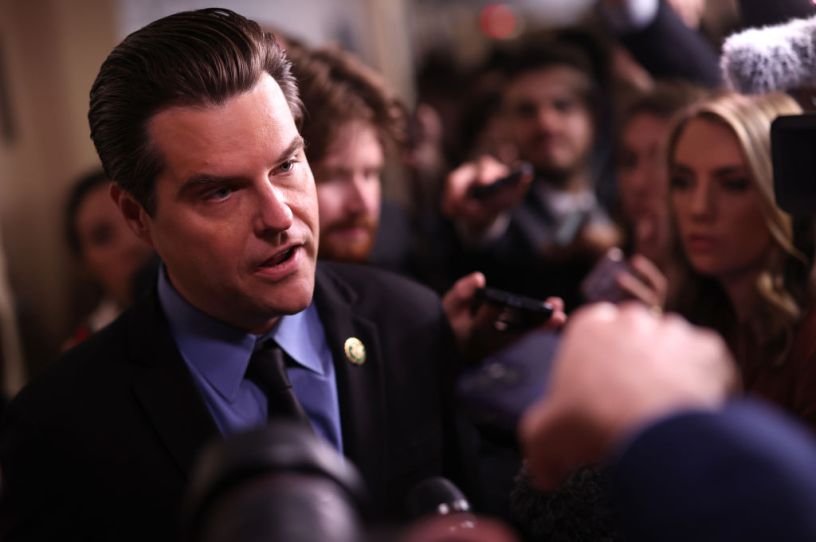 Rep. Matt Gaetz talks to reporters as he leaves a House Republican caucus meeting at the Capitol on September 19, 2023. (Photo by Kevin Dietsch/Getty Images)
Rep. Mike Lawler, contemplating how a handful of his fellow Republicans are about to shut down the federal government and saddle him and the rest of the party with the blame, is almost speechless. As he prepares for the weekly GOP conference meeting on Tuesday morning at the Capitol, Lawler searches for the words to describe his colleagues holding up party unity in the House for what they claim is a desire for necessary cuts to discretionary spending.
"Circus performers?" he tells The Dispatch, seemingly resigned to more chaos.
Performative politics is what the GOP rank-and-file have come to expect from their most strident colleagues these days. With a shutdown looming and Kevin McCarthy's speakership potentially on the table, House Republicans are grappling with many of the same forces that have plagued their narrow majority all year: unresolved fiscal politics, skewed incentives for attention-seeking, murky policy goals, and margins thin enough that a few truculent members can grind proceedings to a halt.
The current situation is following a now-familiar pattern. Over the weekend, representatives of the moderate Main Street Caucus and the conservative populist Freedom Caucus, tacitly deputized by party leadership, had crafted an imperfect but workable proposal. It would temporarily fund the government, achieve some spending cuts, and avoid the toxic politics of a shutdown. With a House Republican majority of just four seats, McCarthy can hardly afford to lose any of his members. But the proposed resolution had been pronounced practically dead on arrival by the most obstinate members of the Freedom Caucus. Those holdouts make up probably less than half of the 40 or so members of the group, but they are led in this particular crusade by the inveterate Rep. Matt Gaetz of Florida.
You're out of free articles
Create an account to unlock 1 more articles