Here Comes Ron DeSantis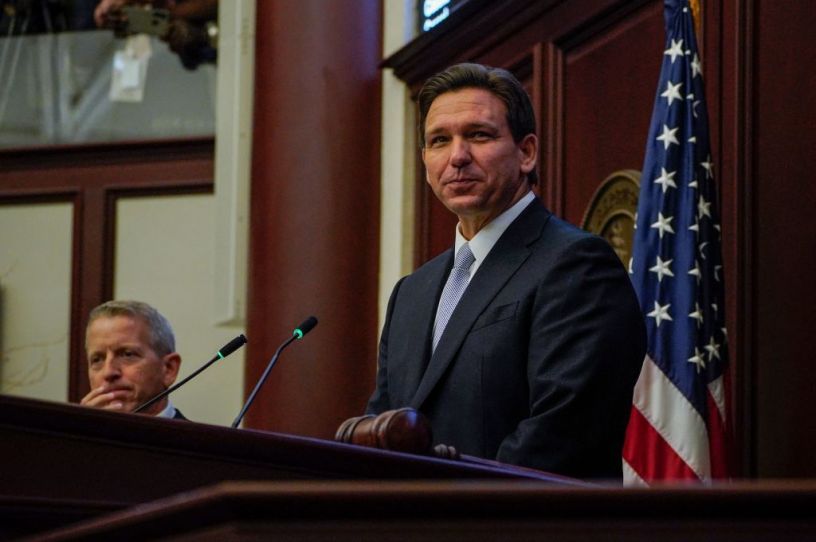 Florida Governor Ron DeSantis in the Florida State Capitol on March 7, 2023. (Photo by CHENEY ORR/AFP via Getty Images)
Happy Wednesday! Looks like it's time to figure out what this Ron DeSantis guy is all about.
Up to Speed
It's official: Florida Gov. Ron DeSantis will launch his long-anticipated presidential campaign during a 6:00 p.m. ET Twitter conversation with the social media platform's owner Elon Musk. Later Wednesday evening, DeSantis will join Fox News host and former South Carolina Rep. Trey Gowdy for an 8:00 p.m. ET interview.
After his Monday debt ceiling meeting with President Joe Biden that both sides later characterized as "productive," House Speaker Kevin McCarthy told the House GOP conference Tuesday that the president is still "dug in" on his approach to raising the country's borrowing limit. As both parties continue to negotiate amidst the standoff, Senate Minority Leader Mitch McConnell told a local news outlet in Kentucky on Tuesday that he believes panic in Washington surrounding the default timeline is overblown. "Look, I think everybody needs to relax," McConnell said. "This is not that unusual."
South Carolina's Senate passed a House-passed fetal heartbeat bill on Tuesday that bans abortions after six weeks in a woman's pregnancy with exceptions for medical emergencies, fetal abnormalities, or in cases of incest up to twelve weeks in a pregnancy. South Carolina Gov. Henry McMaster has vowed to sign the bill into law once it reaches his desk.
Democratic Gov. Roy Cooper declared a state of emergency in North Carolina's public school system in response to Republican state lawmakers considering legislation that would expand school voucher programs and prohibit teachers from promoting critical race and gender theory concepts in the K-12 classrooms, among other public education-related bills. "It's clear that the Republican legislature is aiming to choke the life out of public education," Cooper said in an address Monday. "I'm declaring this a state of emergency because you need to know what's happening."
DeSantis Takes the Field After Months of Anticipation
Finally a bona-fide presidential candidate, Florida Gov. Ron DeSantis is skipping the traditional hometown kickoff and heading straight to the crucial early primary states, where Republican voters matter most.
Rather than declare his candidacy with a major speech in suburban Tampa, where he was raised; or Jacksonville, an area he represented for three terms in Congress; or even Tallahassee, the state capital where he transformed into a presidential contender, DeSantis will hit the ground in Iowa and other early primary states immediately after the Memorial Day weekend.
DeSantis is set to formally announce his bid for the Republican presidential nomination on Wednesday, a move expected since last November, when he won reelection by a landslide. The big reveal is taking place in a Twitter interview with Elon Musk, the technology mogul who owns the social media hub. Their conversation, moderated by David Sacks—a wealthy entrepreneur who backs DeSantis—will be broadcast in the evening on Twitter Spaces, the platform's site for audio discussions.