Mike Pence Bows Out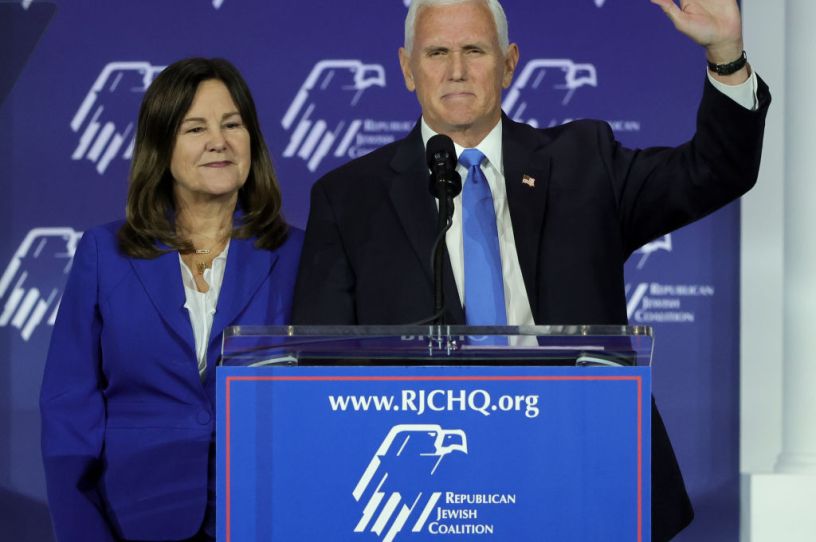 Former Vice President Mike Pence and his wife Karen Pence wave onstage after he suspended his campaign for president during the Republican Jewish Coalition's Annual Leadership Summit on October 28, 2023, in Las Vegas. (Photo by Ethan Miller/Getty Images)
Happy Monday! Mike Pence is out, and you know what that means—it's time for Asa Hutchinson to catch a wave.
Up to Speed
Here's an attention-grabbing new poll out of Iowa this morning: With Donald Trump maintaining his comfortable lead at 43 percent of likely caucus-goers, former ambassador and ex-South Carolina Gov. Nikki Haley has pulled even with Florida Gov. Ron DeSantis in the state at 16 percent apiece. South Carolina Sen. Tim Scott, who has increasingly bent all his attention on Iowa, landed in a distant fourth at 7 percent. The poll, conducted by the Des Moines Register and NBC News, is considered the gold standard in Iowa polling.
The poll is good news for Haley but great news for Trump, who is the clear primary beneficiary from a contest with no obvious second-place challenger. Trump's poll support is also the most locked in, with 63 percent of his backers attesting their minds are made up. And 41 percent of DeSantis supporters say their second choice is the former president, compared to only 27 percent of DeSantis supporters who say their second pick is Haley.
President Joe Biden has urged Israeli leaders to prioritize humanitarian aid into the Gaza strip as Israel continues to intensify its bombardment. The president has faced growing indignation from the left flank of his own party over his staunch support for Israel's war to eradicate the terror group Hamas in Gaza.
The Trump campaign on Sunday released a list with the endorsements of 100 "Iowa faith leaders" from around the state. Some Iowa evangelicals have strongly criticized Trump in recent months since the former president began tacking leftward on abortion policy, including by criticizing the heartbeat bill signed this year by Florida Gov. Ron DeSantis as "a terrible thing and a terrible mistake."
The House may have a speaker now, but bad blood keeps spilling out. House Ways and Means Chair Jason Smith slammed Rep. Matt Gaetz, saying the Florida congressman has "blood on his hands for 22 wasted days" in a Thursday radio interview. Rep. Patrick McHenry called former Speaker Kevin McCarthy's ouster "perhaps the dumbest set of politics for decision-making a majority party in this institution could make."
Ohio voters will go to the polls next week to decide whether to establish a right to abortion access under the state Constitution. Although Ohio has become essentially a red state, abortion-access ballot measures in both red and blue states have strongly favored liberalization following the Dobbs v. Jackson Women's Health decision last year that rescinded the constitutional right to abortion. In anticipation of this vote, Ohio Republicans tried to pass a measure on the summer ballot to raise the vote threshold for state constitutional amendments from 50 to 60 percent. They were unsuccessful.
Pence Bows to Reality in Another Blow to Reaganism
LAS VEGAS—Mike Pence pulled the plug on his presidential campaign this weekend with one final effort to convince fellow Republicans to reject the isolationists in their midst and recommit to supporting American leadership abroad.
"As war rages in Eastern Europe and Israel, and China continues its provocations in the Asia Pacific, a new populist movement in the Republican Party says that America should retreat from our leadership position, turn inward and focus solely on domestic concerns," the former vice president said Saturday, just before shocking a gathering of the Republican Jewish Coalition by announcing the suspension of his bid for the GOP nomination.
"I believe we've come to a Republican time for choosing," Pence added. "Now more than ever, the American people, and the world, need the Republican party to stand tall for freedom."
You're out of free articles
Create an account to unlock 1 more articles