Mike Pence to Decry Republican Populism in New Hampshire Speech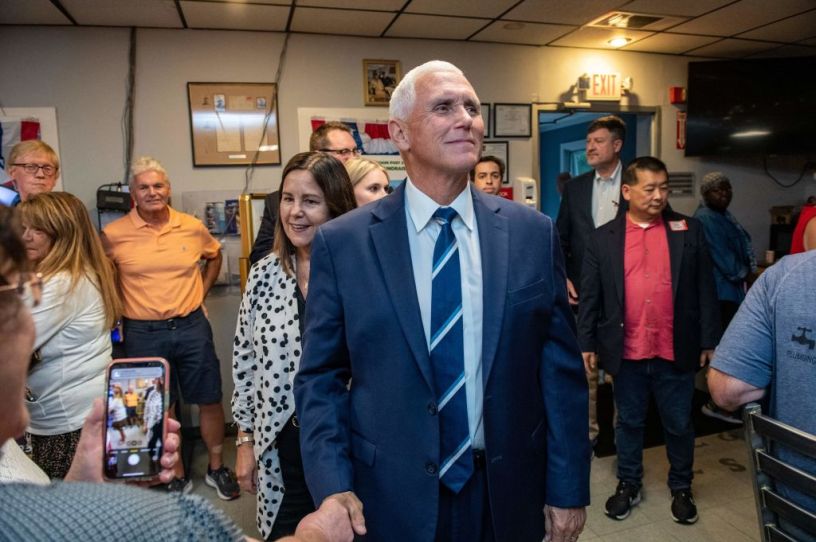 Former Vice President Mike Pence and his wife Karen arrive at a campaign event in Londonderry, New Hampshire, on August 4, 2023. (Photo by JOSEPH PREZIOSO/AFP via Getty Images)
Happy Wednesday! Hoping you were able to return to the office after the Labor Day weekend without a bunch of new problems on your desk—unlike House Speaker Kevin McCarthy, who is hearing that his most conservative and strident members are once again chattering about ousting him.
Up to Speed
Are you ready for some football—with a dash of politics? President Joe Biden's reelection campaign is debuting a new television advertisement Thursday evening during the first game of the new National Football League season between the Detroit Lions and the defending Super Bowl champion Kansas City Chiefs. The 30-second spot touts Biden's economic record and is set to air in key battleground media markets, including Phoenix, Atlanta, Detroit, Las Vegas, Philadelphia, Milwaukee, and Raleigh, North Carolina. The Biden campaign, which has lately ramped up television advertising, is also on the air in Phoenix with this spot on the president's manufacturing policies as part of a 16-week, $25 million ad buy.  I
Former President Donald Trump, the Republican frontrunner, is headed to Washington, D.C., next week to address an annual conference hosted by Concerned Women for America, according to the conservative group's website. Other prominent Republicans are also expected to address the gathering, which is slated for September 14 and 15 at the Capital Hilton. Thanks to the Dispatch Politics tipster who alerted us to this event.
Former House Intelligence Committee Chairman Mike Rogers announced Wednesday morning he is running for Senate in Michigan in 2024. The Republican is seeking the seat being vacated by retiring Democratic Sen. Debbie Stabenow.
First lady Jill Biden, 72, tested positive for COVID-19 Monday evening and is experiencing mild symptoms, her spokesperson said. President Joe Biden, 81, tested negative on Tuesday and "is not experiencing any symptoms," White House press secretary Karine Jean-Pierre told reporters. President Biden "will be masking while indoors and around people in alignment with CDC guidance," Jean-Pierre added.
Following his second public freeze-up last week in roughly a month, Senate Minority Leader Mitch McConnell released a doctor's note on Tuesday suggesting there is no change in his recovery regimen following his fall earlier this year. "My examination of you following your August 30, 2023 brief episode included several medical evaluations: brain MRI imaging, EEG study and consultations with several neurologists for a comprehensive neurology assessment," the U.S. Capitol's attending physician Brian P. Monahan wrote in the note dated September 5. "There is no evidence that you have a seizure disorder or that you experienced a stroke, TIA or movement disorder such as Parkinson's disease. There are no changes recommended in treatment protocols as you continue recovery from your March 2023 fall."
Nikki Haley's presidential campaign is launching "Young Americans for Nikki" and "Students for Haley," Fox News reports, using the coalitions to galvanize support for the former South Carolina governor among young professionals and college students, respectively. The campaign claims members from 45 states have signed up for "Young Americans for Nikki," and says "Students for Haley" is active on 25 college campuses across the country.
Bill Richardson died Friday at his summer home in Massachusetts. He was 75. The Democrat enjoyed a prolific and celebrated career in politics and government, serving as a congressman, New Mexico governor, U.S. ambassador to the United Nations, energy secretary, and a go-to U.S. negotiator whenever unique diplomatic troubles arose. Richardson also ran unsuccessfully for president in 2008, dropping out early in the race and endorsing Barack Obama over longtime ally and friend Hillary Clinton.
Pence Fights Rising Tide of Trump Populism
Mike Pence is traveling to New Hampshire Wednesday to defend the Republican Party from the populists who would rip the final vestiges of Reagan-era conservatism from its personality, platform, and purpose. The former vice president's weapon of choice? What else: a speech.
Senior Pence advisers previewed the address during a conference call with reporters, insisting the talk wasn't directed at any populist in particular—not at Donald Trump, the former vice president's old boss and frontrunner for the 2024 nomination; nor at Vivek Ramaswamy, the wealthy biotech entrepreneur whom he sparred with during last month's Republican debate in Milwaukee.
Rather, the Pence advisers said the former vice president's forthcoming speech, titled "Populism vs. Conservatism: Republicans' Time for Choosing"—aptly alluding to the address that launched Ronald Reagan as a conservative icon and, eventually, to the White House—was about the party writ large.
You're out of free articles
Create an account to unlock 1 more articles