Mitch McConnell's Future as Leader Uncertain Following Second Freeze-Up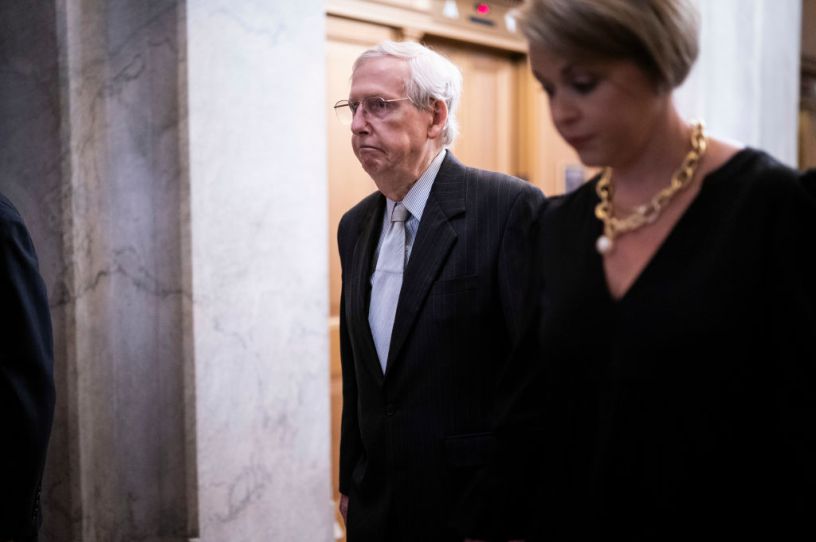 Senate Minority Leader Mitch McConnell departs for the day on Capitol Hill on July 27, 2023. (Photo by Jabin Botsford/The Washington Post via Getty Images)
Happy Friday! A note to readers: We will not be in your inboxes on Monday due to the holiday. Happy Labor Day weekend, and we'll see you on Wednesday!
Up to Speed
Second McConnell Freeze-Up Sparks Intra-GOP Debate About His Health, Leadership
Senate Republicans are growing concerned about Mitch McConnell's ability to continue serving as minority leader after the Kentucky Republican was unable to verbalize an answer to a question during a Wednesday news conference—the second such health episode he has suffered this summer.
There are discussions among some Senate Republicans, none of whom are in leadership, to convene a meeting about McConnell's health and discuss next steps, although details are preliminary and it's unclear when such a gathering would occur, one Senate GOP aide confirms to Dispatch Politics. Politico first reported tentative plans for a special meeting of the Republican conference once the Senate reconvenes in Washington next week following an annual summer recess.
McConnell, 81, is the longest-serving Senate leader in U.S. history and has had a virtually unchallenged iron grip on his conference for most of his 16-plus-year tenure. That makes the willingness of some Senate Republicans and senior GOP aides to even broach a discussion of moving past McConnell remarkable. One lobbyist who requested anonymity to speak candidly told The Dispatch Thursday that in conversations with chiefs of staff for multiple senators in both parties, the general consensus was one of concern and confusion for how much longer McConnell can continue as leader.