Nikki Haley in Iowa: 'I Don't Play for Second'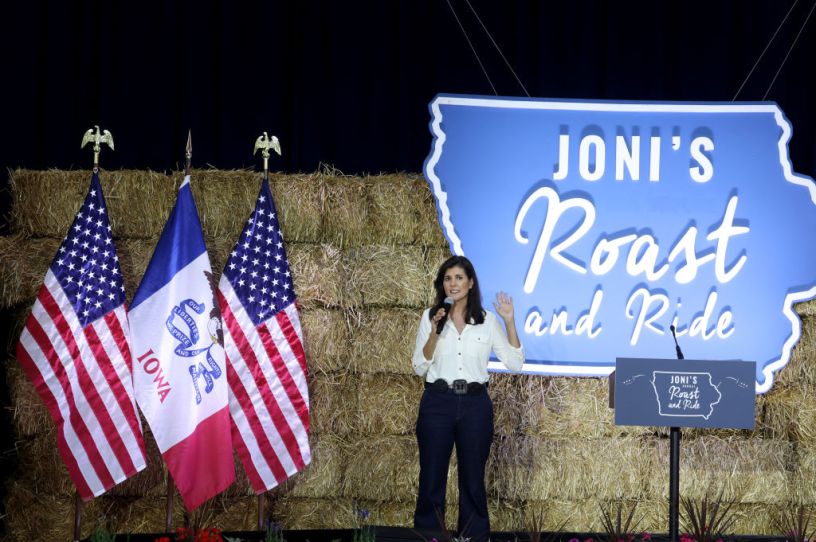 Former ambassador and South Carolina Gov. Nikki Haley during the Joni Ernst's Roast and Ride event on June 03, 2023 in Des Moines, Iowa. (Photo by Scott Olson/Getty Images)
Happy Monday! Dispatch summer interns start today, so we're thinking we'll probably just hand this thing over to them for the next few months. Don't worry—we'll check in every week or two to see how they're doing.
Up to Speed
With just days left on the shot clock, President Joe Biden on Saturday signed bipartisan legislation suspending the debt ceiling through the end of 2024 while curbing some future federal spending. "No one got everything they wanted, but the American people got what they needed," Biden said during a speech Friday, his first major address from the Oval Office. "Both sides kept their word."
The Republican National Committee announced Friday that the first Republican presidential debate will take place on August 23 in Milwaukee, with a second to follow the next day "should enough candidates qualify to make it necessary." The organization also released the debate's candidate qualification criteria—more on that below.
The first major cattle call of the Republican nominating contests took place Saturday in Iowa at Sen. Joni Ernst's annual "Roast and Ride" fundraiser event. Eight current or likely candidates made appearances: Florida Gov. Ron DeSantis, former Vice President Mike Pence, biotech entrepreneur Vivek Ramaswamy, former U.N. Ambassador and South Carolina Gov. Nikki Haley, South Carolina Sen. Tim Scott, former Arkansas Gov. Asa Hutchinson, radio host Larry Elder, and businessman Perry Johnson. Only Pence rode a motorcycle. Former President Donald Trump did not attend.
Vivek Ramaswamy called over the weekend for ending the war in Ukraine "on peaceful terms" that "make some major concessions to Russia." "By fighting further in Russia, by further arming Ukraine, we are driving Russia into China's hands, and that Sino-Russian alliance is the top threat we face," Ramaswamy said on ABC's This Week.
Nikki Haley Preaches That Old-Time Republicanism
With Donald Trump and Ron DeSantis striving to corner the market on MAGA voters, Nikki Haley is wooing a different demographic: old-school Republicans who aren't inclined to see the politics of punishment as a plus.
That strategy was on full display during Haley's Sunday night CNN town hall in Des Moines, Iowa, where she criticized politics driven by "all this vendetta stuff" and drew sharp contrasts between herself and the frontrunners for the nomination on political philosophy and policy.
The vendetta remark came as Haley rebuked DeSantis, who has been far and away her most frequent target so far in the race, over his "hypocritical" ongoing feud with Disney, which she argued had arisen not over ideological differences but because Disney had criticized one of his bills.
You're out of free articles
Create an account to unlock 1 more articles