No Labels Focusing on Nomination Rules Over Candidates, For Now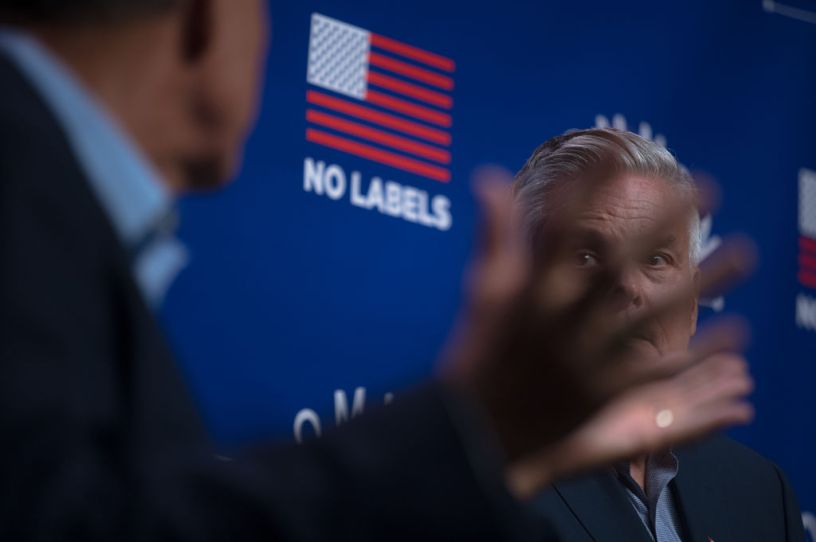 Former Utah Gov. Jon Huntsman and Sen. Joe Manchin III at the 'Common Sense' Town Hall, an event sponsored by the bipartisan group No Labels, held on July 17, 2023, at St. Anselm College in Manchester, New Hampshire. (Photo by John Tully for The Washington Post via Getty Images)
Happy Friday! Unless you're working for Joe Biden's reelection campaign. A new CNN poll shows that a whopping 67 percent of Democrats and Democratic-leaning voters wish the party would nominate someone other than the president. That same poll shows Biden's approval rating clocking in at just 39 percent.
Up to Speed
No Labels Delays Candidate Vetting, Prioritizes Nomination Rules
The nonpartisan group No Labels has shelved plans to vet potential candidates for an independent 2024 ticket at least until the political nonprofit organization establishes ground rules for choosing nominees for president and vice president.
That decision is expected sometime in October, No Labels officials tell The Dispatch.
"What we did is we really wanted to prioritize this selection aspect of this," No Labels Chief Strategist Ryan Clancy says. "So, yeah, we haven't started that process yet." In April, the group told Dispatch Politics the formal exercise of researching the backgrounds of potential candidates would begin in late summer or early fall and be led by No Labels "legal teams."
You're out of free articles
Create an account to unlock 1 more articles