Ramaswamy Grabs the Mic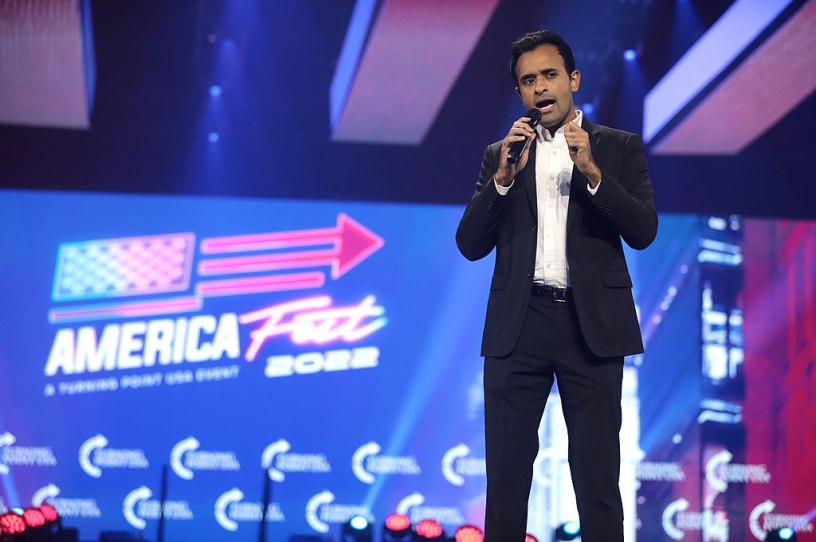 Vivek Ramaswamy speaks at the 2022 AmericaFest at the Phoenix Convention Center in December 2002 in Phoenix. (Photo by Gage Skidmore/Wikimedia Commons)
Happy Monday! We'd like to extend a warm "welcome back" to self-help author and "spiritual thought leader" Marianne Williamson, who said Sunday that she will challenge Joe Biden for the Democratic nomination in 2024. Last time around, Williamson didn't make it to Iowa, but you never know—and it's hard to imagine a more interesting general-election presidential debate than, say, Williamson vs. Ramaswamy.
Up to Speed
Given his presidential star has risen during his term as Florida governor, Ron DeSantis hadn't faced many questions about his foreign policy agenda until recently. Now, however, he appears to be allying himself with the GOP's emergent isolationist wing. In a Fox News interview last week, DeSantis criticized President Joe Biden's "blank check" approach to the war in Ukraine: "He's very concerned about those borders halfway around the world. He's not done anything at home to secure our own border here at home." Those comments contrast sharply with ones DeSantis made while still in Congress—most notably when he criticized former President Barack Obama for not being hawkish enough against Russia's encroachment on Ukraine. "As a conservative congressman, DeSantis, now a potential presidential hopeful, urged sending 'defensive and offensive' weapons to Ukraine in 2014 and 2015 and even voted to refuse to fund a new missile defense treaty with Russia until they withdrew from Ukraine," report CNN's Em Steck and Andrew Kaczynski.
Democratic Michigan Rep. Elissa Slotkin is officially running for retiring Democratic Sen. Debbie Stabenow's Senate seat. In a video released Monday morning, the former CIA analyst focused on her personal backstory and perceptions of national malaise: "We all know America is going through something right now. We seem to be living crisis to crisis," she said. But "our country's going to get through this. It's hard work, but that's what Michiganders do." Slotkin enters what's shaping up to be a slim Democratic field: Two other possible contenders, Lt. Gov. Garlin Gilchrist and state Sen. Mallory McMorrow, announced over the weekend they won't get into the Senate race.
Slotkin's announcement brings her 2022 Republican challenger, Michigan state Sen. Tom Barrett, one step closer to running for her House seat again in 2024. "Senator Barrett has received very strong encouragement from throughout Michigan to run for the 7th District and is putting together plans to do so," Barrett said in a statement Monday morning.
The Conservative Political Action Conference (CPAC) returns to the D.C. area this week, kicking off at the Gaylord National Resort and Convention Center in Maryland March 1-4 and featuring a host of speakers including former President Donald Trump, former South Carolina Gov. Nikki Haley, former Secretary of State Mike Pompeo, and former Arizona gubernatorial candidate Kari Lake. Neither Ron DeSantis nor former Vice President Mike Pence are currently slated to attend. The conference has been somewhat overshadowed this year by an allegation of sexual assault against lobbyist Matt Schlapp, who runs CPAC's parent organization, the American Conservative Union. Schlapp has denied the allegation in court.
Can Ramaswamy Corner the 'Anti-Woke' Market?
If you've decided to run for president, there's an art to deciding when to announce your candidacy. If you're a former president yourself, you might want to be first out of the gate, to cast each subsequent entry as an explicit referendum on you. If you're a former member of that president's administration, you might wait for the field to expand and minimize the amount of time you have to spend going mano-a-mano with your former boss. If you're a certain popular governor, you might want to finish up your legislative session first, both to pad your policy résumé and perhaps to make sure running won't force you to resign from your current job.
And if you're a political newcomer whom even many new junkies haven't heard of, you probably want to grab that microphone early before things get too noisy and crowded.
This seems to be the strategy for Vivek Ramaswamy, the biotech founder who became the third Republican to officially enter the race last Tuesday. With a pile of other contenders still waiting in the wings, the 37-year-old megamillionaire is already off to the races, barnstorming across New Hampshire and Iowa last week.