Ricketts Rival Herbster Mulls 2024 Senate Challenge in Nebraska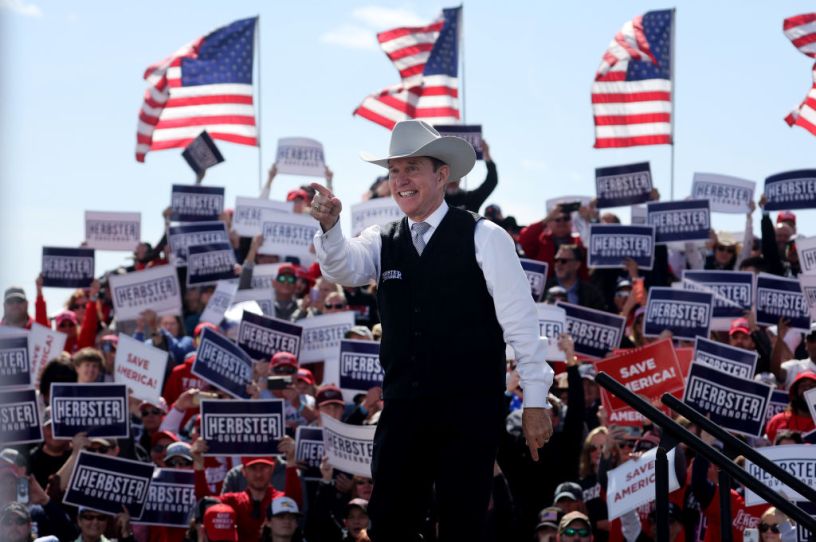 Nebraska gubernatorial candidate Charles Herbster speaks during a rally hosted by former President Donald Trump on May 1, 2022 in Greenwood, Nebraska. (Photo by Scott Olson/Getty Images.)
Up to Speed
In his State of the Union address Tuesday night, President Joe Biden lauded his administration's first-term accomplishments in a speech widely seen as a soft launch for his 2024 reelection campaign. Biden struck a deliberately moderate tone throughout, boasting of bipartisan legislative accomplishments and—when he stopped to criticize Republican policy proposals—repeatedly deviating from his prepared remarks to clarify that not all congressional Republicans endorsed them. In a particularly striking exchange, Biden's assertion that "some Republicans want Medicare and Social Security to sunset" drew an enormous chorus of boos from GOP members in attendance. Biden, who initially seemed bemused by the strength of the reaction, pivoted to applauding the body's seeming unity on the subject: "Tonight let's all agree—and apparently we are—to stand up for seniors. Stand up and show them we will not cut Social Security. We will not cut Medicare."
Two Republicans delivered official State of the Union responses: newly inaugurated Arkansas Gov. Sarah Huckabee Sanders and freshman Rep. Juan Ciscomani of Arizona, who delivered his speech in Spanish. Sanders offered a withering critique of Biden's age, fitness to serve, and policy agenda: "The dividing line in America is no longer between right or left. The choice is between normal or crazy." Ciscomani's speech was more restrained, but hit similar themes: "President Biden wants to tell you that everything is great, but why aren't people feeling great?" he said in Spanish. "The American dream feels more unattainable, and sadly, President Biden fails to show leadership and present any viable solution." Ciscomani also echoed that cuts to Social Security and Medicare are "off the table" in the current Congress.
What's next for Republican Lee Zeldin of New York, who came 6.4 points short of toppling Gov. Kathy Hochul in last year's gubernatorial election? The former congressman told reporters Monday that he's setting up a new federal political action committee and hasn't ruled out challenging Sen. Kirsten Gillibrand, who's up for reelection in 2024. Zeldin's loss was the best Republican showing in a New York gubernatorial in two decades, helping Republican candidates flip three House districts on Long Island.
Former GOP Gov. Candidate Herbster May Challenge Sen. Ricketts in '24
Former GOP gubernatorial candidate Charles W. Herbster is considering challenging Nebraska Sen. Pete Ricketts in 2024, The Dispatch has learned. The news comes roughly two weeks after former two-term Gov. Ricketts—appointed by his successor Jim Pillen to fill former Sen. Ben Sasse's seat—was sworn into office January 23.
Challenging Ricketts in 2024 would likely come at a steep financial cost for Herbster. Ricketts' family has deep pockets (his father Joe founded TD Ameritrade), and both the National Republican Senatorial Committee (NRSC) and Mitch McConnell-aligned Senate Leadership Fund (SLF) have signaled they're open to spending heavily in Republican primaries this cycle.
Herbster is weighing his options. "I have had a lot of people both within Nebraska and Republicans involved in national politics reach out, encouraging me to run for the United States Senate in 2024," Herbster said in a statement to The Dispatch. "I am in the fortunate position right now where I have several different options available for my political future. The Senate in 2024 is certainly one of those options. However, at this time, I have made no decisions and have no pending announcement."
Herbster's spokesman Rod Edwards declined to say whether Herbster has spoken with any Senate Republicans about the potential challenge.