When Will Dianne Feinstein Return?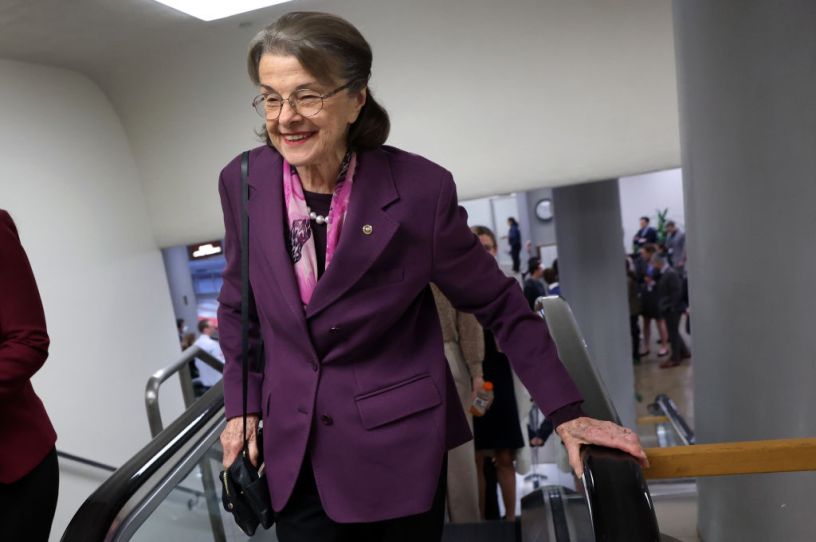 Sen. Dianne Feinstein on February 16, 2023, in Washington, D.C. (Photo by Kevin Dietsch/Getty Images)
Happy Wednesday! If you were sad that we'd already reached the final Dispatch Politics of the week, here's some good news: We're cranking this thing up to three times a week, and will be back in your inboxes Friday. (If the prospect of a little more of us in your inboxes every week doesn't lift your spirits, please keep those feelings to yourself!)
Up to Speed
President Joe Biden isn't expected to have difficulty recapturing the Democratic presidential nomination, but unusually strong poll numbers for several outsider candidates are highlighting some Democrats' dissatisfaction with the unpopular president. One Fox News poll last week of Democratic primary voters found 62 percent support for Biden, with 19 percent support for Robert Kennedy, Jr., and 9 percent support for Marianne Williamson. (Throughout the 2020 GOP primary, neither of Trump's gadfly challengers, former Rep. Joe Walsh or former Massachusetts Gov. Bill Weld, ever polled above 5 percent.)
Virginia Gov. Glenn Youngkin's "will he or won't he?" presidential campaign dance continues. Asked whether he planned to run for president this year, Youngkin seemed to answer unequivocally: "No, I'm going to be working in Virginia this year." But as reporters rushed to report that Youngkin had finally ruled himself out of the contest, aides hurriedly clarified that Youngkin had only meant he would not run this year—but that the presidential election will, after all, take place in 2024. (January 1, 2024—one month before the Iowa caucuses—would be a remarkably late time for a candidate to declare a run.)
Former President Donald Trump plans to appear next week at a New Hampshire presidential town hall produced by CNN. It's the latest sign the former president is expanding his media strategy in an apparent attempt to outflank his top rival, Florida Gov. Ron DeSantis, who is—as we've previously reported—unusually press-averse, even for a modern Republican.
After Treasury Secretary Janet Yellen said Monday that the U.S. could default on its debt as soon as June 1 if leaders don't raise the country's borrowing limit, President Biden invited the top four congressional leaders—House Speaker Kevin McCarthy, Senate Minority Leader Mitch McConnell, House Minority Leader Hakeem Jeffries, and Senate Majority Leader Chuck Schumer—to a May 9 White House meeting to discuss the debt ceiling standoff.
Democratic Sen. Ben Cardin of Maryland announced Monday that he will not seek reelection in 2024, creating an open Democratic primary race for his seat. Larry Hogan, Maryland's former two-term Republican governor, told NewsNation on Tuesday he has "never been interested" in being a senator and suggested he would not run to succeed Cardin.
Three-term Democratic Gov. Jay Inslee of Washington—the country's longest serving current governor—announced Monday that he will not run for reelection in 2024.
As Some Democrats Grumble, Feinstein Timeline Still Unclear
Roughly two months after she left Washington to recover from shingles, Democratic Sen. Dianne Feinstein's timeline for returning to the nation's capital from her home in San Francisco remains a mystery.
On Tuesday, Senate Majority Leader Chuck Schumer arrived at his weekly press conference prepared to say he had spoken to Feinstein and was "hopeful" the California senator will return to D.C. next week, according to a copy of Schumer's notes spotted by a Politico photographer. But in a statement issued after Politico's story broke, Feinstein's office said her timetable for returning to Washington is still unclear.
"Senator Feinstein continues to make progress in her recovery, however, we don't have a timeline yet for her return to Washington which is dependent on her medical team saying it is safe to travel," Feinstein spokesman Adam Russell said in a statement to The Dispatch Tuesday evening.
Get every newsletter and all of The Dispatch. Support quality, fact-based journalism.
Get Started
ALREADY HAVE AN ACCOUNT? SIGN IN