Why Trump's GOP Rivals Aren't Piling On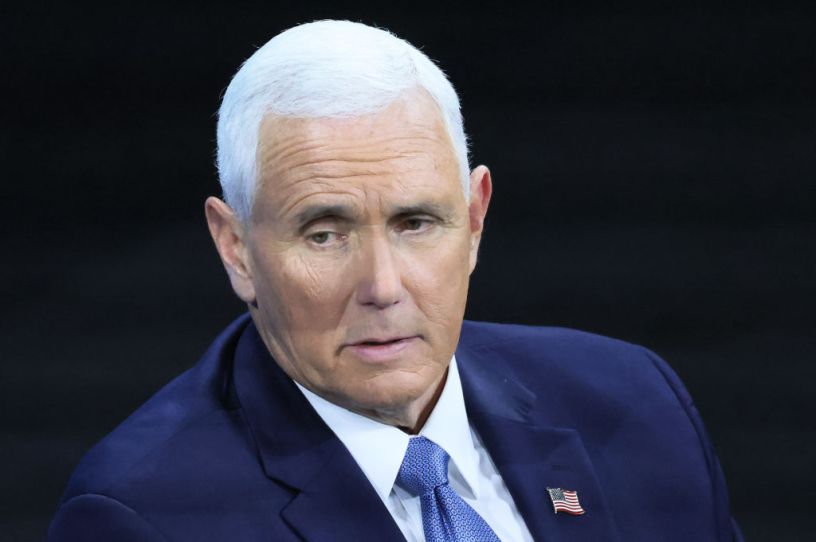 Former Vice President Mike Pence. (Photo by Michael M. Santiago/Getty Images)
Happy Wednesday! We know many Democrats have been having a lot of fun posting online about the former president's latest legal trouble over his handling of classified documents, but we're still begging Hillary Clinton to sit this one out.
Up to Speed
Former President Donald Trump pleaded not guilty Tuesday afternoon to 37 federal felony charges of willfully retaining highly classified documents after he left office and conspiring to obstruct government efforts to recover them. The federal magistrate judge who oversaw Tuesday's arraignment in Miami ordered Trump and his co-defendant Waltine Nauta not to discuss the case except through their attorneys. A crowd of Trump backers protested the charges outside the courthouse but remained peaceful.
Trump returned to his New Jersey property after the arraignment to give a defiant speech before a second group of supporters, proclaiming that the day would "go down in infamy," denouncing the indictment as a sham, and pledging to appoint a special counsel to investigate the Biden family if he is reelected. The crowd responded with chants of "lock him up!"
The indictment continued to divide Trump's challengers for the Republican nomination Tuesday. Entrepreneur Vivek Ramaswamy traveled to the Miami courthouse ahead of Trump to announce he would pardon Trump if elected and demand other candidates say the same. But much of the field was moving in the other direction. Trump's former vice president, Mike Pence, said that "the former president has a right to his day in court." Former South Carolina Gov. Nikki Haley said Trump's alleged conduct was "incredibly reckless" if true, while South Carolina Sen. Tim Scott called it a "serious case with serious allegations."
Ohio Sen. J.D. Vance vowed Tuesday afternoon to place procedural holds on nearly all Justice Department nominees—except for those up for confirmation to the U.S. Marshals Service—in response to Trump's indictment.
The White House distanced itself from Rose Montoya, a transgender influencer, after Montoya posted a topless picture on social media taken on the White House lawn during a pride party hosted by President Biden. "This behavior is inappropriate and disrespectful for any event at the White House," a spokesperson said, adding that Montoya would not be invited back.
The Bureau of Labor Statistics reported Tuesday that the year-over-year consumer price index was four percent in May, down from 4.9 percent in April, marking the lowest inflation rate in more than two years.
What Are They Thinking?
Vivek Ramaswamy says the federal indictment against Donald Trump is outrageous and wants the entire Republican field to pledge to pardon him. Asa Hutchinson and Chris Christie think the evidence is "damning" and shows he's unfit for office, while Mike Pence says that "I cannot defend what is alleged" and that Trump has a right to a trial. The rest of Trump's challengers are hovering in the middle—allowing when asked by reporters that Trump's alleged conduct is troubling but making sure to denounce supposed prosecutorial double standards at the Justice Department.
If you're hoping to beat Trump eventually, why not take the opportunity to kick him while he's down? We reached out to the campaigns and affiliated super PACs of all Trump's challengers to ask, letting their strategists speak anonymously to get an unfiltered sense of the strategy at play.
You can't beat Trump if they don't know who you are.